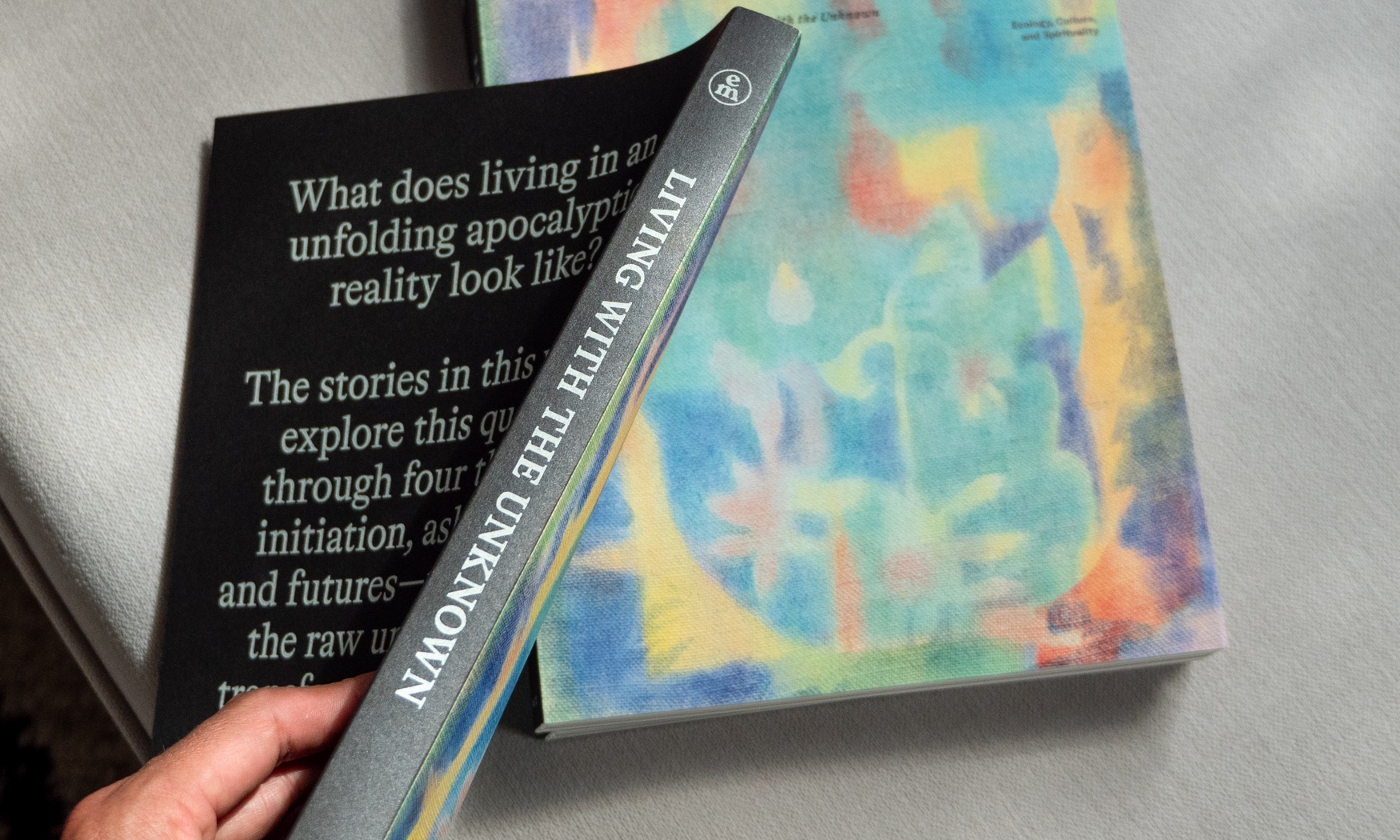 Emergence Magazine Vol. 3
What does living in an unfolding apocalyptic reality look like? Volume 3: Living with the Unknown explores this question through four themes—Initiation, Ashes, Roots, and Futures—moving from the raw unknowing of transformation to a place of rooted possibility. The stories in this edition offer what we hope can be a light in the darkness as we transition into the next chapter of our collective future and embrace the reality of living with the unknown.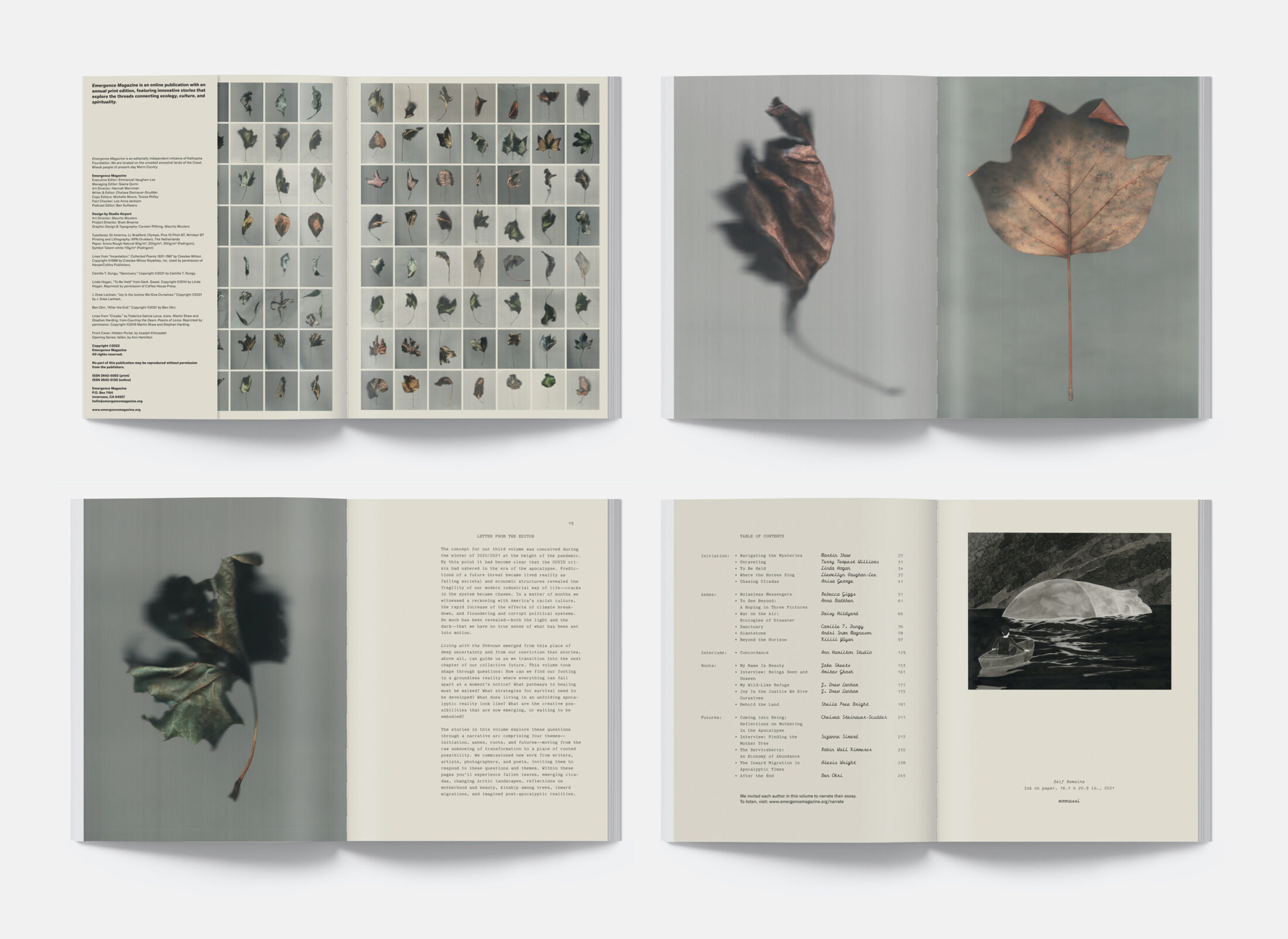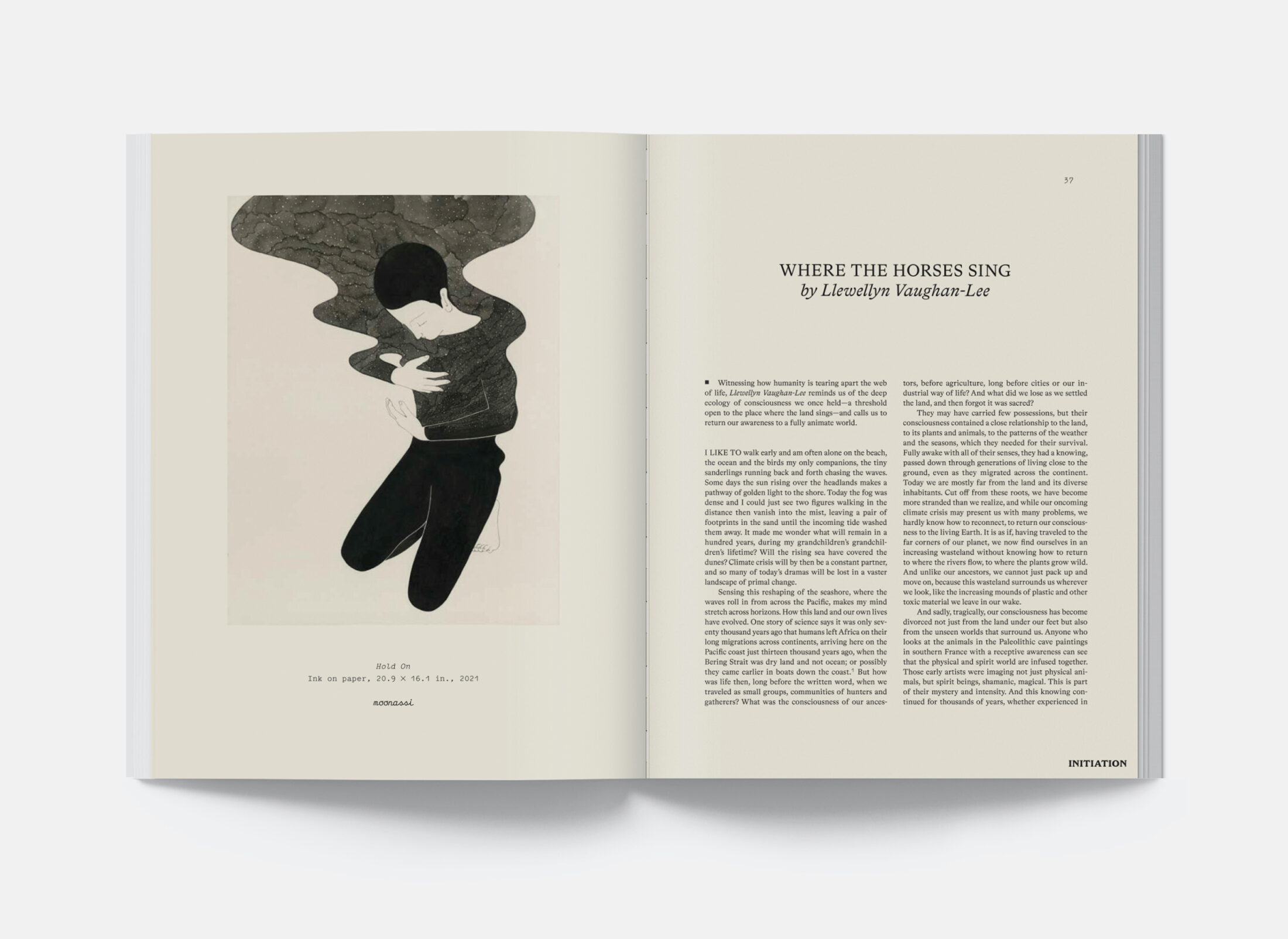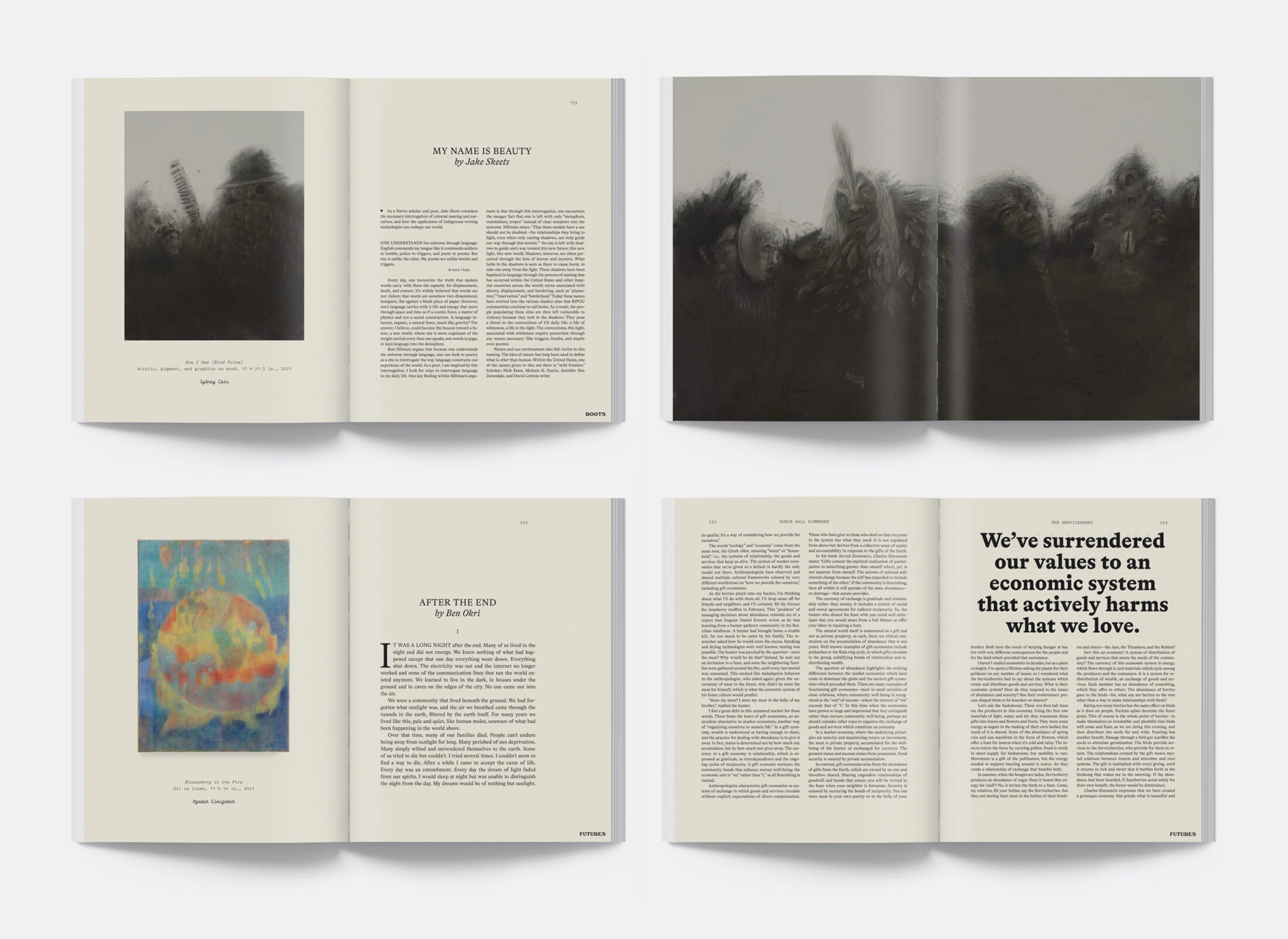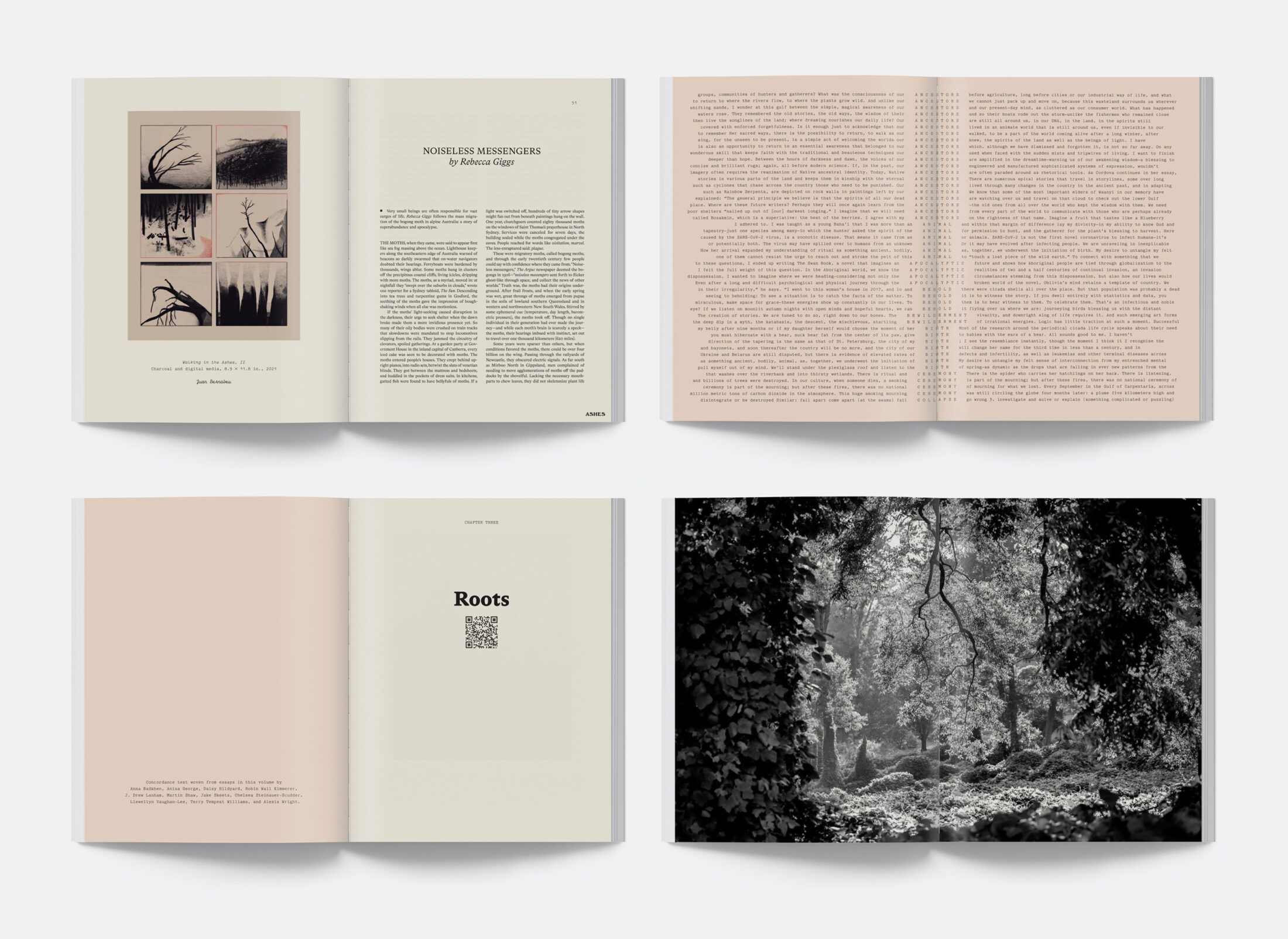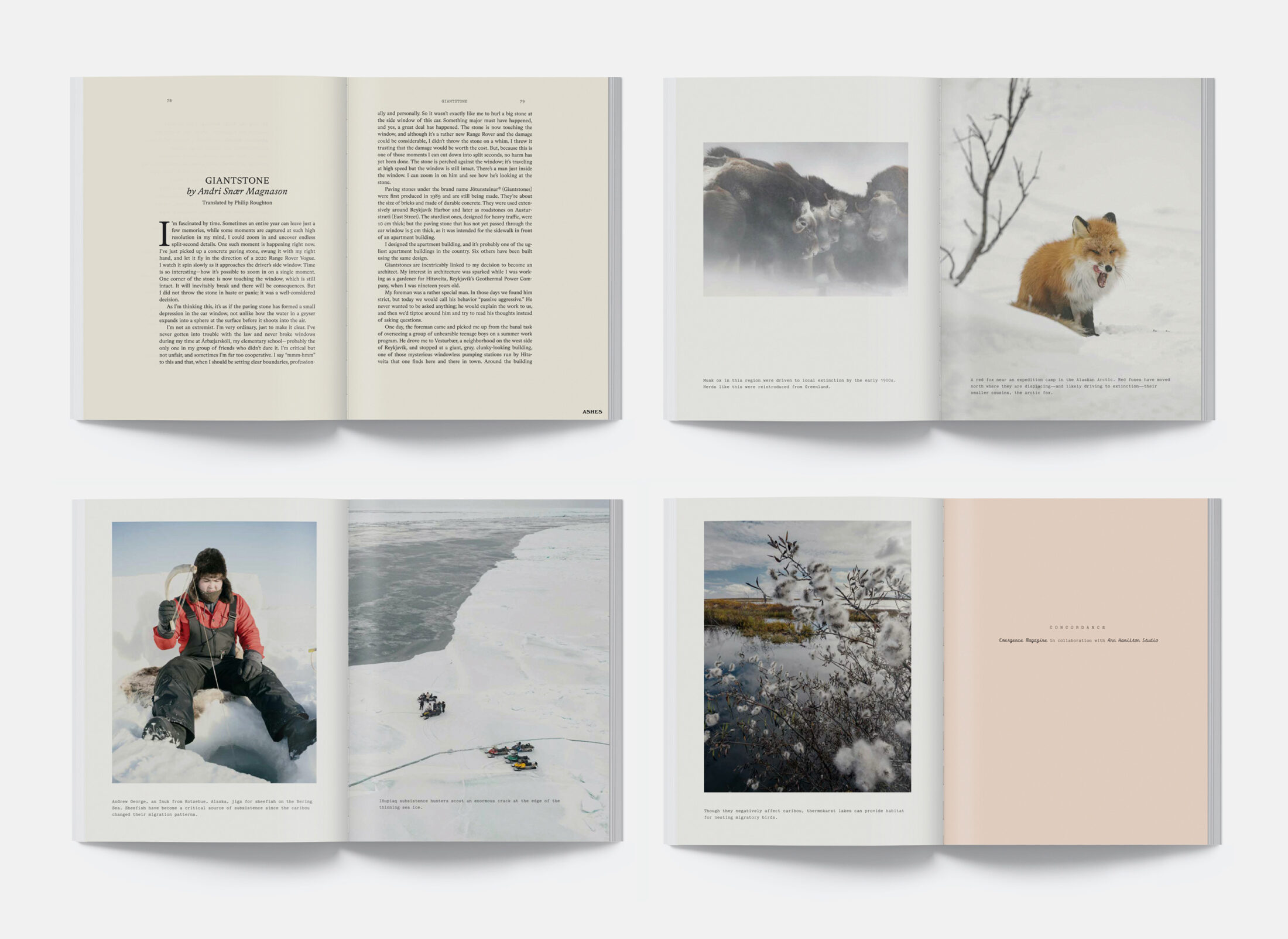 Contributors
Contributors include a Pulitzer Prize finalist, an Academy Award nominee, and recipients of the National Medal of the Arts, the Pushcart Prize, American Book Award, Jnanpith Award, Booker Prize, Whiting Award, Heinz Award, and Miles Franklin Award.
Anna Badkhen

Anna Badkhen is the author of seven books, most recently Bright Unbearable Reality, which was longlisted for the 2022 National Book Award. Her awards include the Guggenheim Fellowship, the Barry Lopez Visiting Writer in Ethics and Community Fellowship, and the Joel R. Seldin Award from Psychologists for Social Responsibility for writing about civilians in war zones. Anna was born in the Soviet Union and is a US citizen.

Anna Badkhen

Juan Bernabeu

Juan Bernabeu is an artist and illustrator trained in Valencia, Berlin, and Italy. He communicates through line and drawing, using patterns and color to bring images to life. His work has appeared in The New Yorker, Smithsonian Magazine, This American Life, and elsewhere.

Juan Bernabeu

Volker Bertelmann

Volker Bertelmann, aka Hauschka, is an internationally acclaimed pianist, composer, and experimental musician. He has provided music for a large number of films and TV shows, including the score for the film Lion, co-composed with Dustin O'Halloran, which was nominated for an Academy Award.

Volker Bertelmann

Sheila Pree Bright

Sheila Pree Bright is an acclaimed fine-art photographer known for her series Young Americans, Plastic Bodies, and Suburbia. Her documentation of responses to police shootings in cities across the US inspired her book #1960Now: Photographs of Civil Rights Activists and Black Lives Matter Protests.

Sheila Pree Bright

Sydney Cain

Sydney Cain, aka sage stargate, is a visual artist born and raised in San Francisco, CA. Through the mediums of graphite, powdered metals, lithography, dye, and chalk, their work reflects encounters with unseen realities and considers the intersection of urban renewal and displacement on the psychic, spiritual, emotional, and physical well-being of marginalized communities. Sydney's work has exhibited at Rena Bransten Gallery, SOMArts, Betti Ono, Ashara Ekundayo Gallery, San Francisco Arts Commission, and the African American Arts and Culture Complex.

Sydney Cain

Camille T. Dungy

Camille T. Dungy is the author of four collections of poetry: Trophic Cascade, Smith Blue, Suck on the Marrow, and What to Eat, What to Drink, What to Leave for Poison. Her debut collection of personal essays is Guidebook to Relative Strangers. Camille edited Black Nature: Four Centuries of African American Nature Poetry. Her honors include an American Book Award, two Northern California Book Awards, two NAACP Image Award nominations, a California Book Award silver medal, and she was awarded a Guggenheim Fellowship in 2019. She is a professor in the English Department at Colorado State University and the poetry editor at Orion Magazine.

Camille T. Dungy

Azadeh Elmizadeh

Azadeh Elmizadeh is a Toronto-based visual artist who works between painting and collage, striving to capture the dynamic process of becoming. She holds an MFA from the University of Guelph and a BFA from Ontario College of Art & Design and Tehran University.

Azadeh Elmizadeh

Anisa George

Anisa George is a Philadelphia-based playwright and director who recently emerged into the arena of prose and poetry writing. She has been published in the American Poetry Review, The Iowa Review, and The Hopper. Her theatrical work was nominated for best-ensemble at the Edinburgh Fringe Festival.

Anisa George

Rebecca Giggs

Rebecca Giggs is an award-winning writer from Perth, Australia. She writes about ecology, environmental imagination, animals, landscape, politics, and memory. Her work has appeared in Granta, The Atlantic, The New York Times Magazine, Best Australian Science Writing, and other publications. Fathoms is her first book.

Rebecca Giggs

Amitav Ghosh

Amitav Ghosh is an Indian-born scholar, novelist, and nonfiction writer. His many books include The Great Derangement: Climate Change and the Unthinkable and The Nutmeg's Curse: Parables for a Planet in Crisis. He is the recipient of numerous awards, including the Jnanpith Award—India's highest literary honor—the Pushcart Prize, the Blue Metropolis International Literary Grand Prix, the Tagore Literature Award, and three lifetime achievement awards. His essays have appeared in The New Yorker, The New Republic, and The New York Times.

Amitav Ghosh

Ann Hamilton

Ann Hamilton is a visual artist internationally recognized for her large-scale multimedia installations, public projects, and performance collaborations. Her major commissions include projects for Waterfront Seattle, Park Avenue Armory, The Pulitzer Foundation for the Arts, The Guggenheim Museum, and many others.

Ann Hamilton

Daisy Hildyard

Daisy Hildyard is the author of The Second Body and Hunters in the Snow, and a recipient of the Somerset Maugham Award and a "5 Under 35" honorarium from the National Book Foundation. She holds a PhD in the history of science and lives with her family in North Yorkshire.

Daisy Hildyard

Linda Hogan

Linda Hogan is a Chickasaw novelist, essayist, poet, and environmentalist. She is author of Mean Spirit, winner of the Oklahoma Book Award and the Mountains and Plains Book Award, and a finalist for the Pulitzer Prize. Her latest book of essays, The Radiant Lives of Animals, is forthcoming from Beacon Press.

Linda Hogan

Robin Wall Kimmerer

Robin Wall Kimmerer is a mother, scientist, professor, and enrolled member of the Citizen Potawatomi Nation. She is the author of Braiding Sweetgrass: Indigenous Wisdom, Scientific Knowledge and the Teachings of Plants. Kimmerer lives in Syracuse, New York, where she is a SUNY Distinguished Teaching Professor of Environmental Biology and the founder and director of the Center for Native Peoples and the Environment.

Robin Wall Kimmerer

J. Drew Lanham

J. Drew Lanham is a birder, naturalist, and hunter-conservationist. He is the author of The Home Place: Memoirs of a Colored Man's Love Affair with Nature, which received the Reed Award from the Southern Environmental Law Center and the Southern Book Prize, and was a finalist for the John Burroughs Medal. His essays and poetry can be found in Orion, Audubon, Flycatcher, and Wilderness, and in the anthologies The Colors of Nature, State of the Heart, Bartram's Living Legacy, and Carolina Writers at Home. He is an Alumni Distinguished Professor of Wildlife Ecology and Master Teacher at Clemson University.

J. Drew Lanham

Andri Snær Magnason

Andri Snær Magnason is an Icelandic writer and filmmaker. His latest book, On Time and Water, is being published in thirty languages, and his work has been published or performed in more than forty countries. His numerous awards include the Green Earth Book Awards Honor Book and a Phillip K. Dick Special Citation for his sci-fi novel LoveStar. His feature-length films include Dreamland and The Hero's Journey to the Third Pole.

Andri Snær Magnason

moonassi

moonassi is an artist from Seoul, Korea, whose black-and-white drawings explore emotion, inner dialogue, and the human psyche. His work has appeared in The New York Times, Migrant Journal, and elsewhere, and has been exhibited in Seoul, New York, and London.

moonassi

Ben Okri

Ben Okri is a Nigerian poet, novelist, and playwright. His many books and poetry collections include: Prayer for the Living, The Freedom Artist, and Rise Like Lions: Poetry for the Many. His novel The Famished Road was the recipient of the Booker Prize for Fiction.

Ben Okri

Philip Roughton

Philip Roughton is an award-winning translator of Icelandic literature. He earned a PhD in Comparative Literature from the University of Colorado, Boulder, and has taught medieval, modern, and world literature. His translations include works by Halldór Laxness, Jón Kalman Stefánsson, Steinunn Sigurðardóttir, and other prominent Icelandic writers.

Philip Roughton

Martin Shaw

Martin Shaw is a writer, artist, teacher, and mythologist. His books include: Smoke Hole, Courting the Wild Twin, Wolf Milk: Chthonic Memory in the Deep Wild, The Night Wages, and A Branch from the Lightning Tree. Shaw's translations of Celtic folklore and poetry (with Tony Hoagland) have been published in Poetry International, The Mississippi Review, Poetry Magazine, Orion, and Kenyon Review. He is the founder of the Westcountry School of Myth, a learning community located on Dartmoor in the far west of the United Kingdom.

Martin Shaw

Suzanne Simard

Suzanne Simard is Professor of Forest Ecology at the University of British Columbia's Department of Forest and Conservation Sciences in Vancouver. She is known for her groundbreaking research on below-ground fungal networks that connect trees and facilitate underground inter-tree communication and interaction. She is the author of the new book Finding the Mother Tree: Discovering the Wisdom of the Forest.

Suzanne Simard

Jake Skeets

Jake Skeets is Black Streak Wood, born for Water's Edge. He is Diné from Vanderwagen, New Mexico. His debut collection of poetry, Eyes Bottle Dark with a Mouthful of Flowers, was a winner of the National Poetry Series and the American Book Award. He won the 2018 Discovery/Boston Review Poetry Contest and has been nominated for a Pushcart Prize. His honors include a 2020–2021 Mellon Projecting All Voices Fellowship and the 2023–2024 Grisham Writer in Residence at the University of Mississippi. His research explores Diné poetics and aesthetics, ecopoetics, Indigenous queer theories, and critical Indigenous feminisms. He currently teaches at the University of Oklahoma.

Jake Skeets

Chelsea Steinauer-Scudder

Chelsea Steinauer-Scudder is a writer based in northern New England whose work explores the human relationship to place. Her essays have been featured in Crannóg Magazine, Inhabiting the Anthropocene, and EcoTheo Review. Her forthcoming book is Rebirth: Mothering Through Ecological Collapse.

Chelsea Steinauer-Scudder

Llewellyn Vaughan-Lee

Llewellyn Vaughan-Lee is a Sufi teacher who has specialized in dreamwork and Jungian psychology. He is author of numerous books on Sufism and spiritual responsibility in our present time of transition, including For Love of the Real and Seasons of the Sacred, and editor of the anthology Spiritual Ecology: The Cry of the Earth. His most recent book is Seeding the Future: A Deep Ecology of Consciousness.

Llewellyn Vaughan-Lee

Terry Tempest Williams

Terry Tempest Williams is the author of numerous books, including the classic in environmental literature, Refuge: An Unnatural History of Family and Place; Finding Beauty in a Broken World; The Hour of Land: A Personal Topography of America's National Parks; and most recently, Erosion: Essays of Undoing. She is a recipient of a Lannan Literary Fellowship, a John Simon Guggenheim Fellowship, and is currently Writer in Residence at the Harvard Divinity School. She divides her time between Cambridge, Massachusetts, and Castle Valley, Utah.

Terry Tempest Williams

Alexis Wright

Alexis Wright is a member of the Waanyi people from the highlands of the southern Gulf of Carpentaria in Australia. She is the author of the novels The Swan Book and Carpentaria, winner of the Miles Franklin Award, Australia's most prestigious literary prize. Wright has published three works of nonfiction: Take Power, Grog War, and Tracker, a collective memoir of Aboriginal leader Tracker Tilmouth and winner of the Stella Prize. Her most recent book is Praiseworthy. In 2017 she was named the Boisbouvier Chair in Australian Literature at the University of Melbourne.

Alexis Wright

Kiliii Yüyan

Kiliii Yüyan's photography illuminates human relationships to the natural world from different cultural perspectives. His work is informed by his ancestry: both Nanai/Hèzhé (East Asian Indigenous) and Chinese American. Kiliii is an award-winning contributor to National Geographic and other major publications.

Kiliii Yüyan