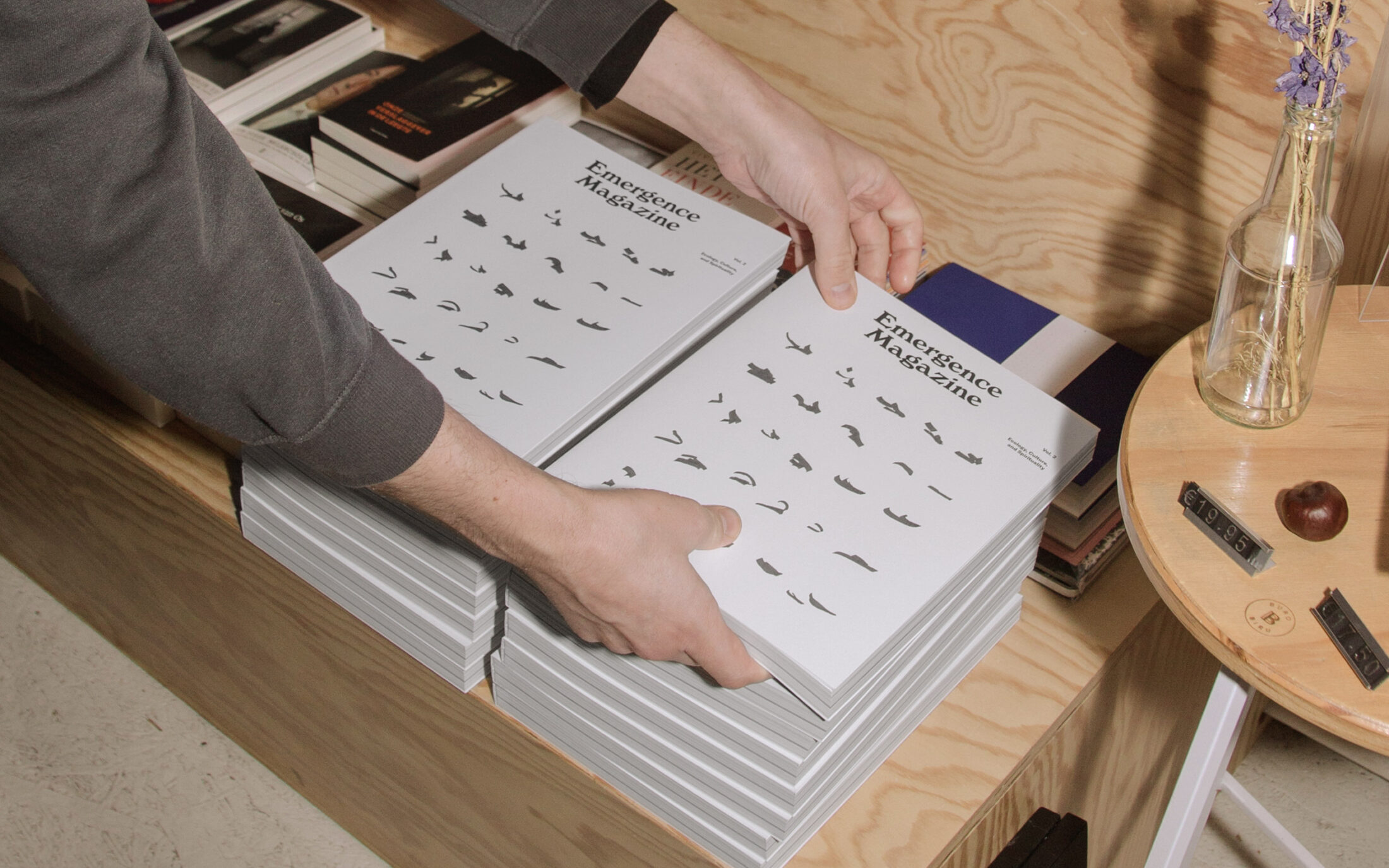 Emergence Magazine Vol. 2
Volume 2 of our print edition speaks to the multiple crises and opportunities unfolding around us: plague, extinctions, and loneliness grip us ever tighter even as they affirm our connection with the living world. Across 400 pages—and through essays, photography, adapted multimedia, poems, and original artwork—this collection considers the stories that we want to seed in these mythological times.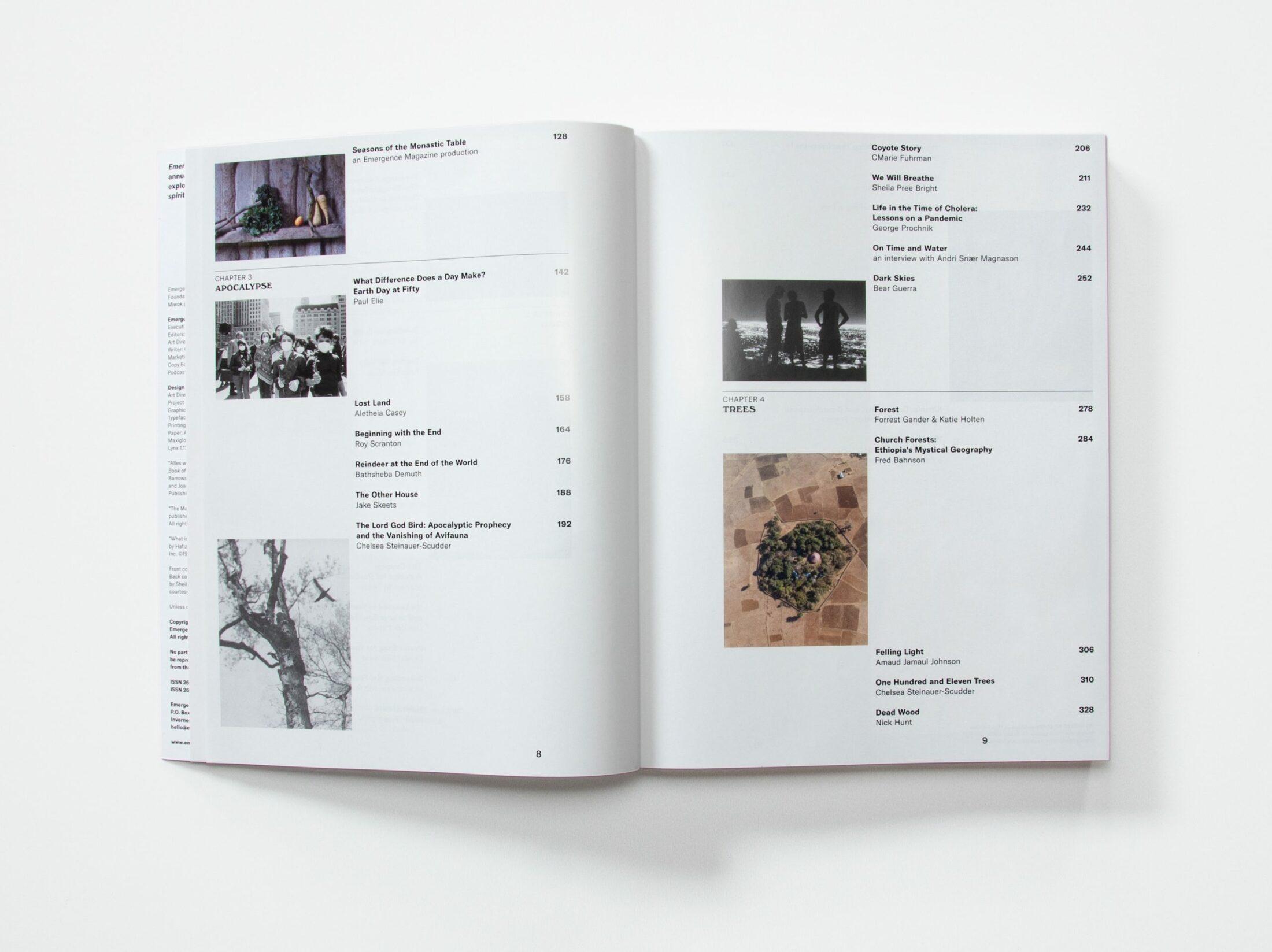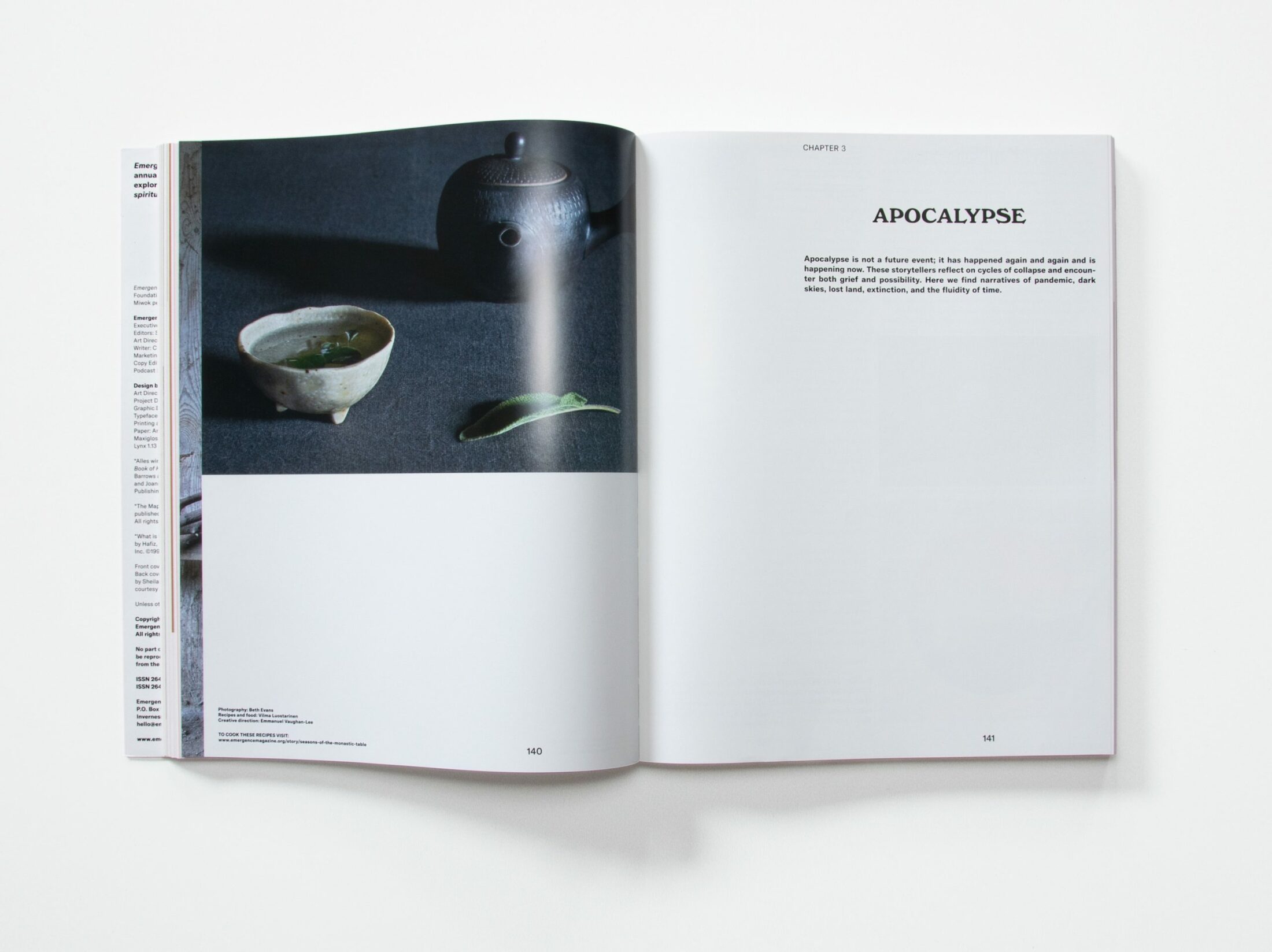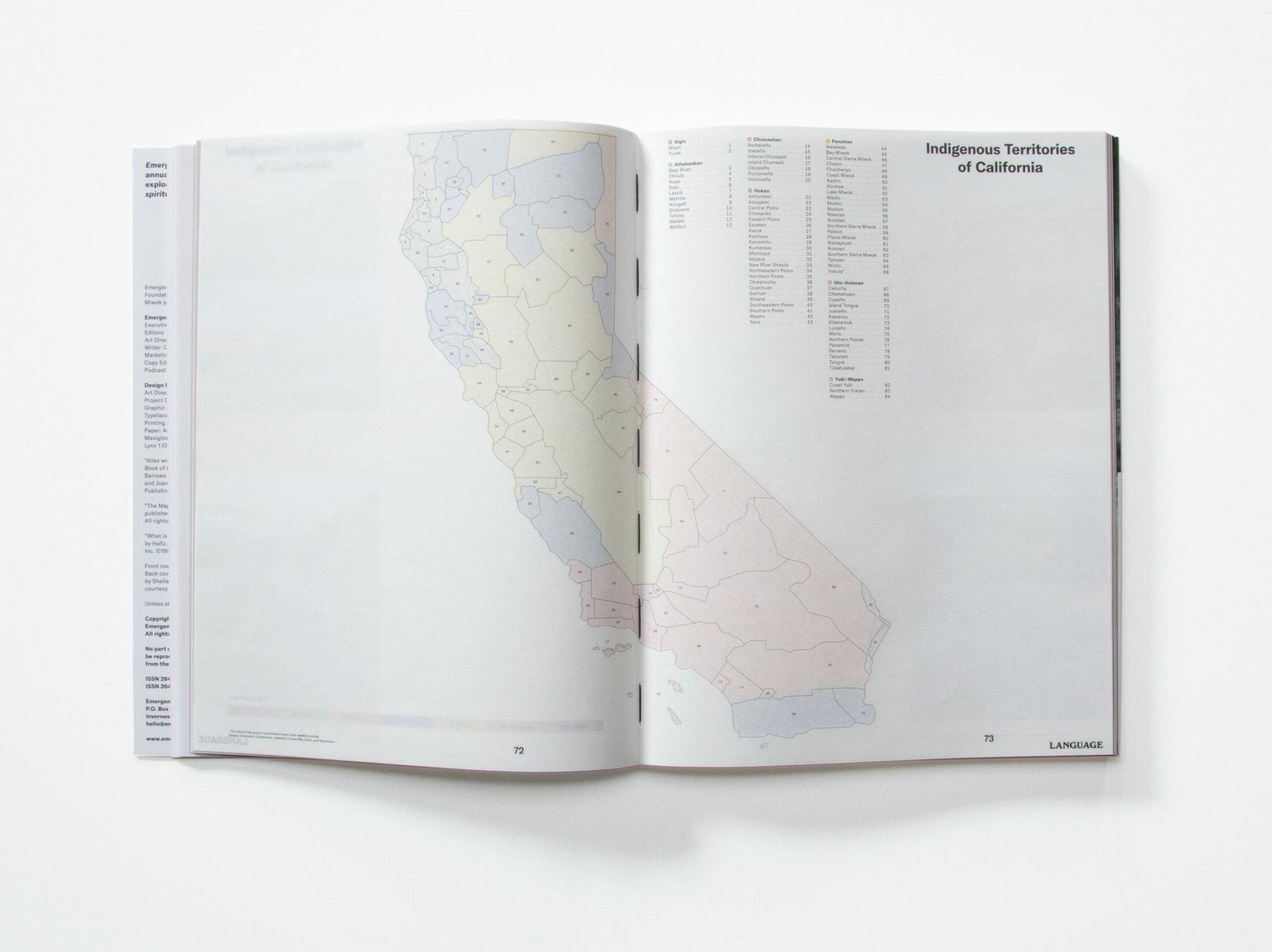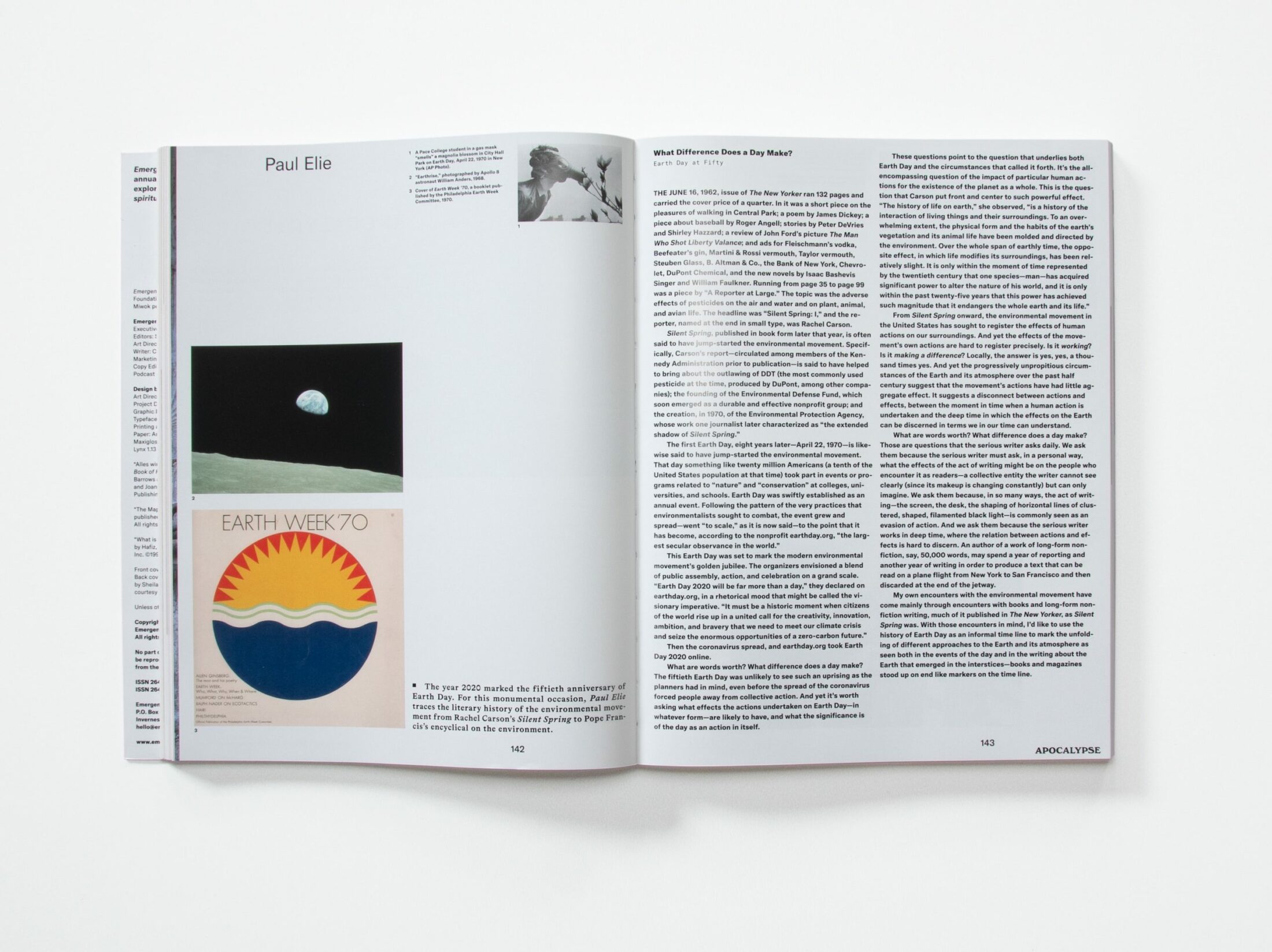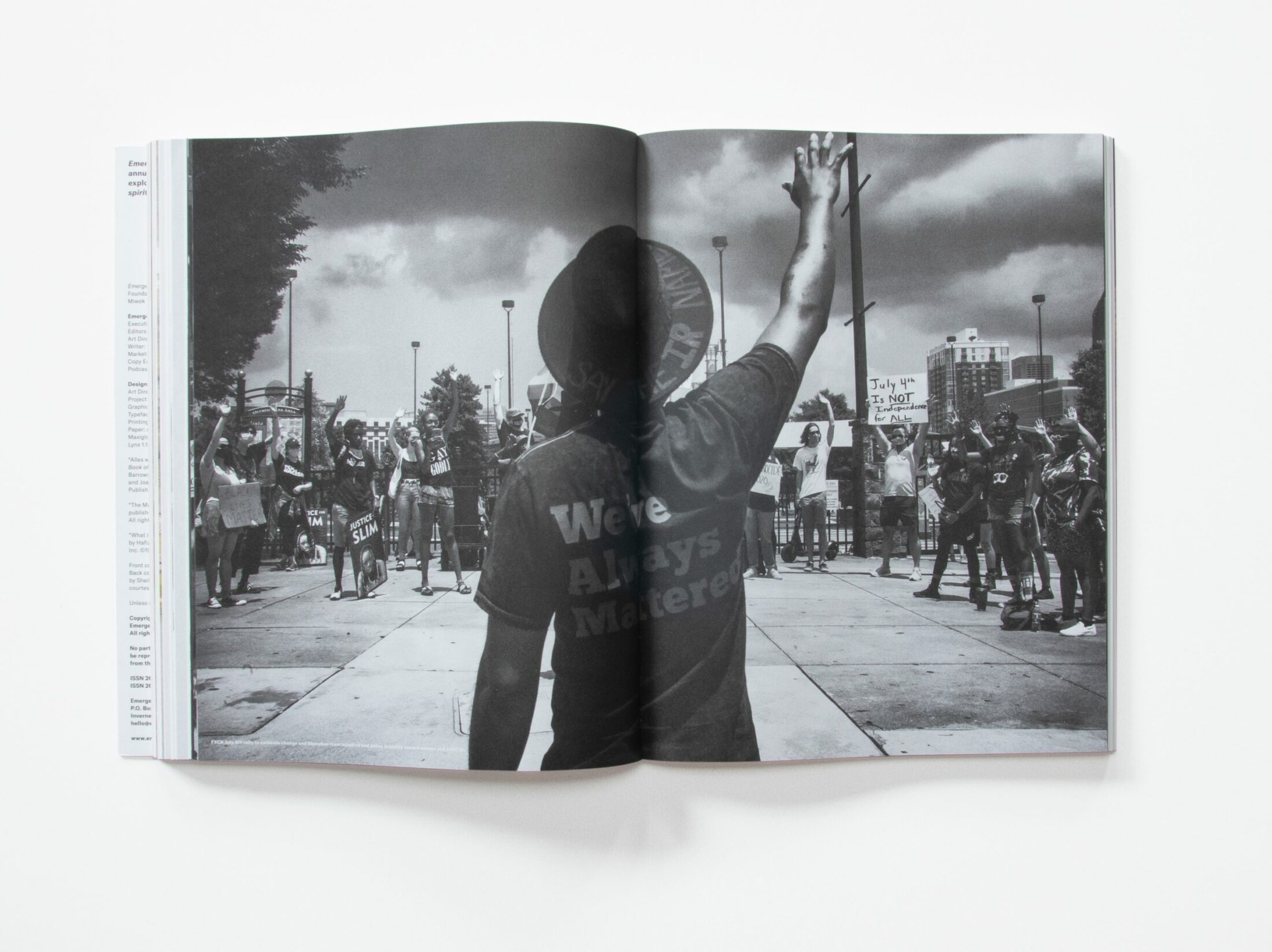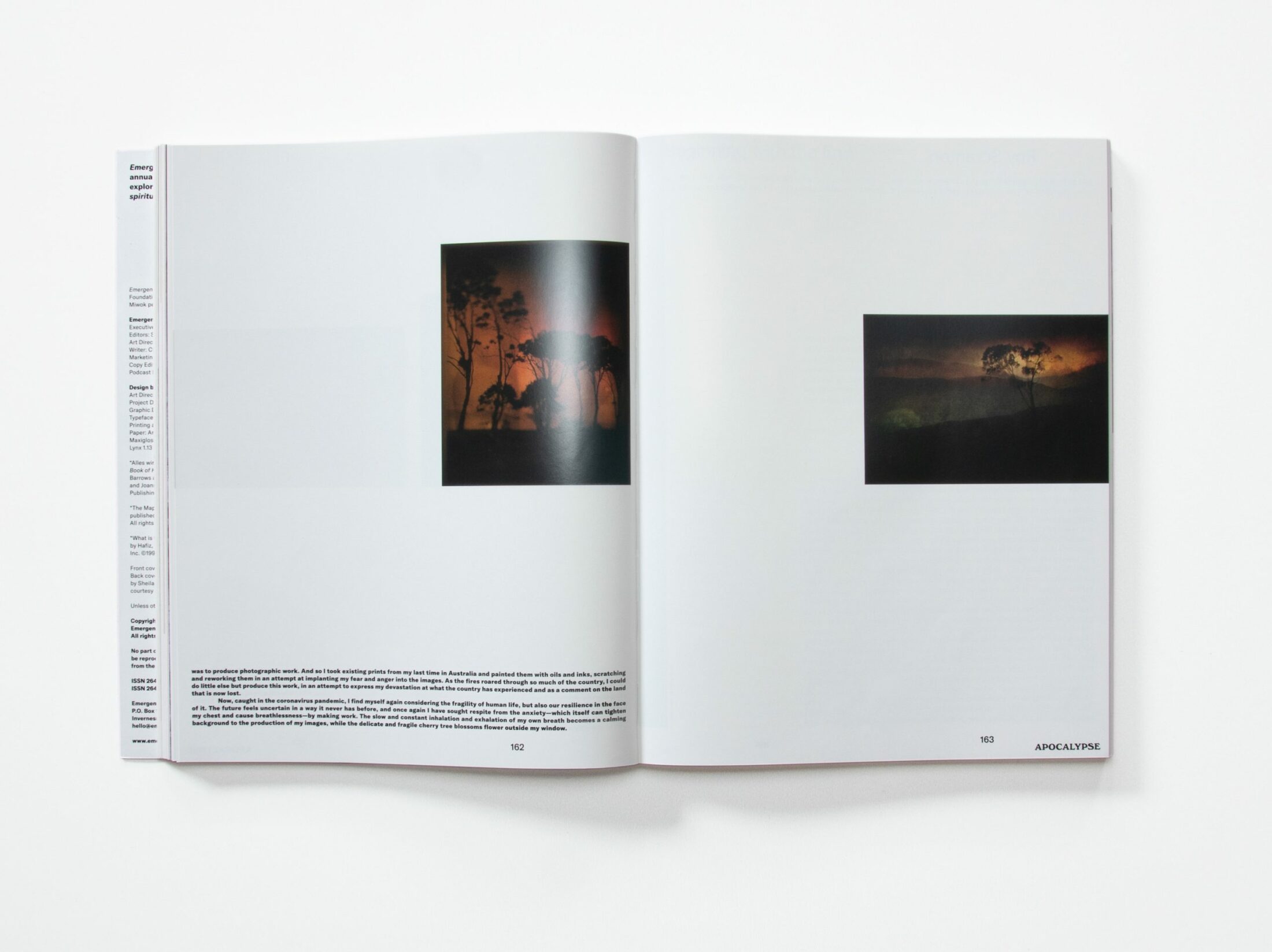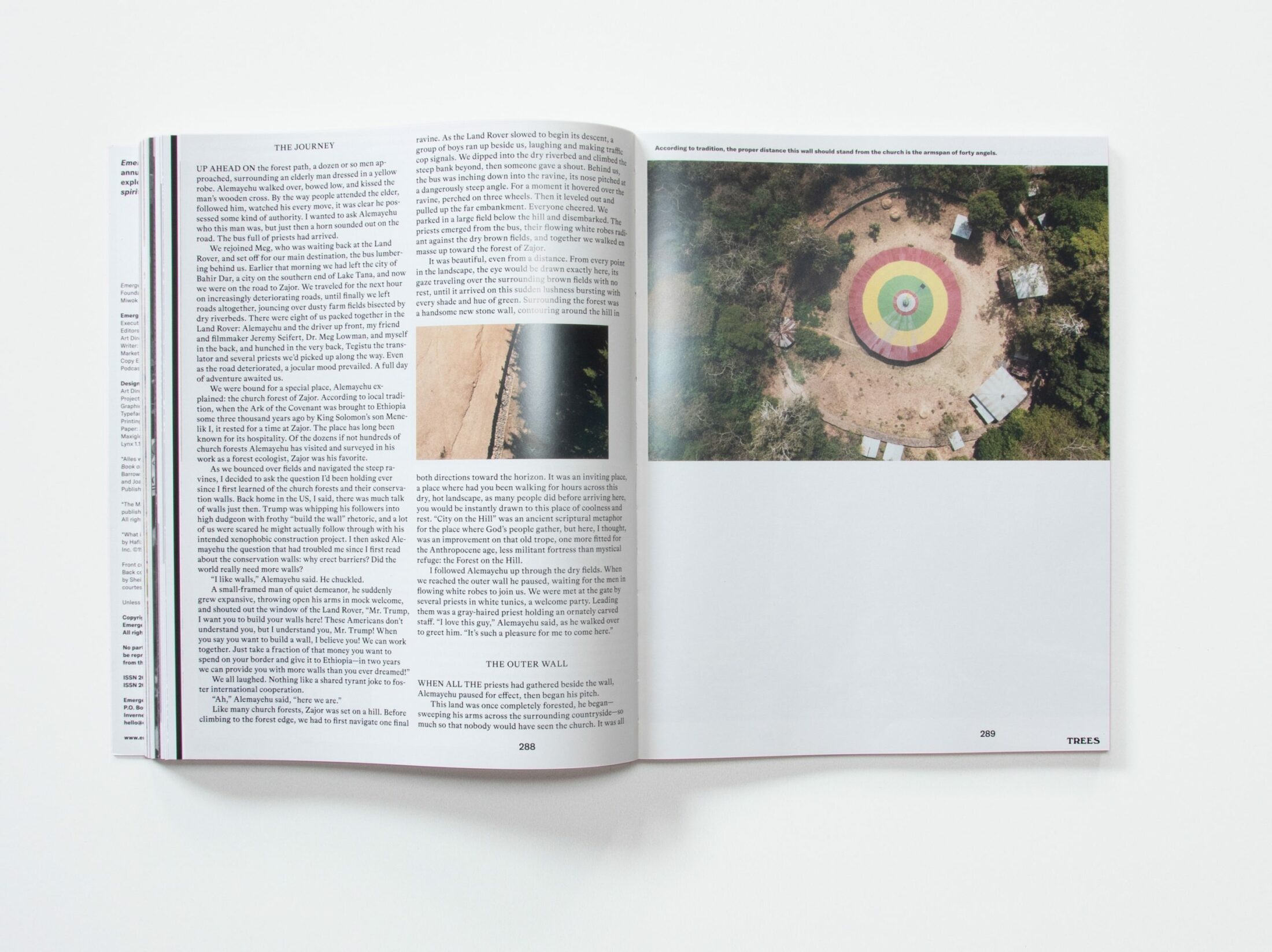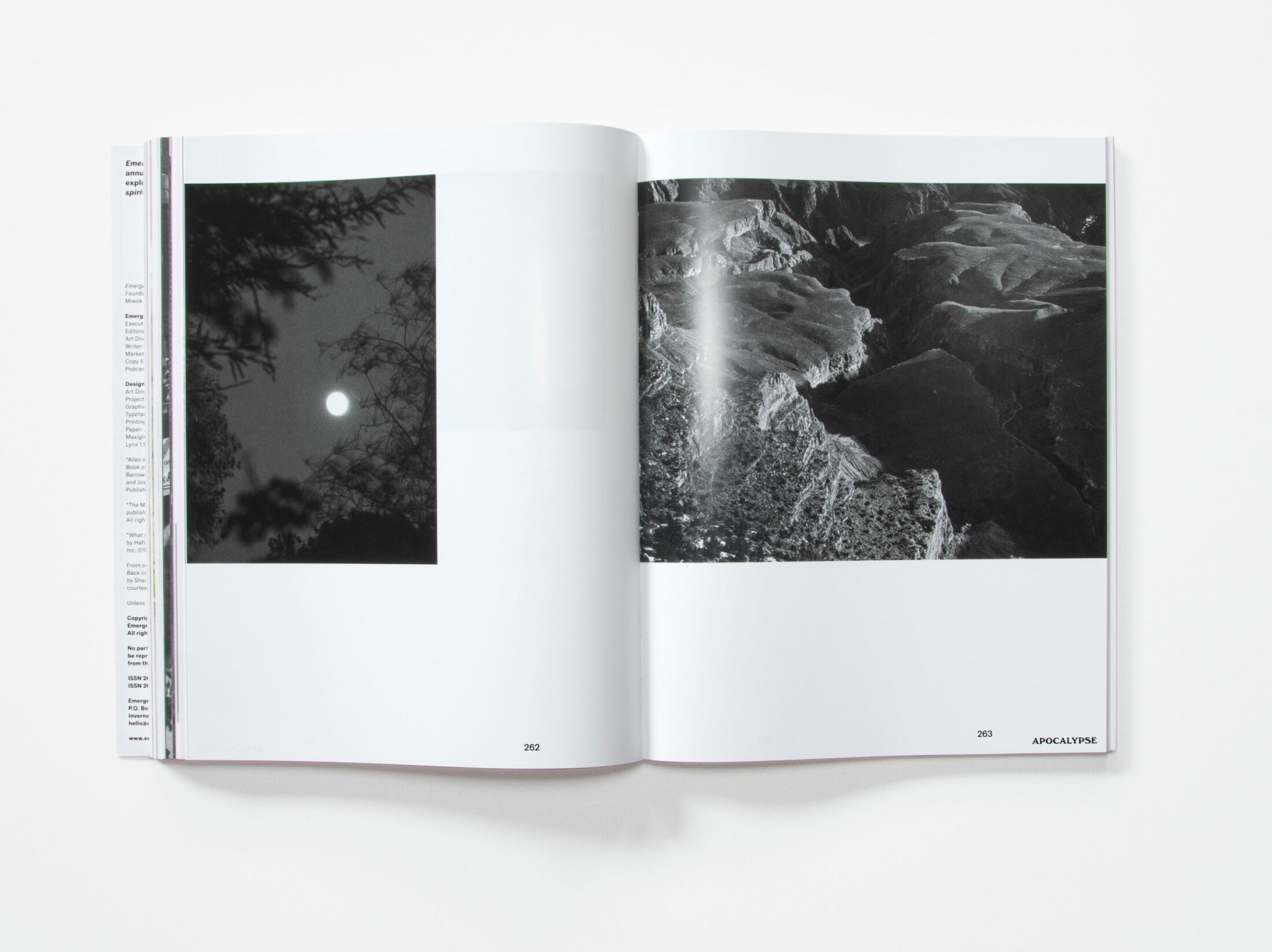 Contributors
Our contributors include two Pulitzer Prize finalists and a Guggenheim Fellow, as well as recipients of the American Book Award, the Wenlock Prize, the TED Prize, the Gordon Burn Prize, The Bookseller Book of the Year Award, the John Burroughs Medal for Outstanding Nature Writing, the Pushcart Prize, and the Sundance Film Festival Grand Jury Prize.
Fred Bahnson

Fred Bahnson is the author of Soil and Sacrament, and his essays have appeared in Harper's, The Sun, Orion, Oxford American, and Best American Spiritual Writing. His essay "On the Road with Thomas Merton," originally published in Emergence Magazine, was selected by Robert MacFarlane for Best American Travel Writing 2020. He is a recipient of a W.K. Kellogg Food and Society Fellowship, a North Carolina Artist Fellowship, and a Terry Tempest Williams Fellowship for Land and Justice at the Mesa Refuge. He lives with his family in southwestern Montana.

Fred Bahnson

Diane Barker

Diane Barker is a photographer and artist, based in Worcestershire in England. For the past twenty-five years, her work has focused on the Tibetan people and, in particular, Tibetan nomads. Diane has shown her work extensively around the UK, as well as in India and New York, and has work in private and public collections around the world.

Diane Barker

Alex Boersma

Alex Boersma is a science illustrator, designer, and geologist. She conducted her research on whale evolution at the Smithsonian National Museum of Natural History. Alex creates illustrations that both accompany science writing and stand alone as works of art. Articles on her research have appeared in The New York Times, BBC News, Nature, and The Washington Post.

Alex Boersma

Sheila Pree Bright

Sheila Pree Bright is an acclaimed fine-art photographer known for her series Young Americans, Plastic Bodies, and Suburbia. Her documentation of responses to police shootings in cities across the US inspired her book #1960Now: Photographs of Civil Rights Activists and Black Lives Matter Protests.

Sheila Pree Bright

Aletheia Casey

Aletheia Casey is a photographic artist based between Sydney and London. Her work has been featured in The Guardian, The Sunday Times Magazine, BBC London, BBC World, Australian Associated Press, and elsewhere. She was named "31 photographers to watch" by the British Journal of Photography, and is the recipient of the Judge's Commendation for the Iris Award at the Perth Centre for Photography, winner of The Magenta Foundation Flash Forward Emerging Photographer Award for the UK, and a finalist for the National Photographic Portrait Prize. She is a founding member of Lumina Collective and a photography lecturer at The Royal Academy of Art in The Hague, and London College of Communication.

Aletheia Casey

Stephen Crotts

Stephen Crotts is an illustrator and painter based in South Carolina. He graduated from Winthrop University with a Bachelor of Fine Arts in Visual Communication Design in 2008. After graduating, he worked as an artist-in-residence in New Orleans, LA. He was a founding member of Friday Arts Project.

Stephen Crotts

Bathesda Demuth

Bathsheba Demuth is an environmental historian, specializing in the lands and seas of the Russian and North American Arctic. She is the author of Floating Coast: An Environmental History of the Bering Strait, which was named a Nature Top Ten Book of 2019, listed as a Best Book of 2019 by NPR, Nature, Kirkus Reviews, and Library Journal, and winner of the 2020 George Perkins Marsh Prize. Her other writings can be found in The American Historical Review and The New Yorker.

Bathsheba Demuth

Camille T. Dungy

Camille T. Dungy is the author of four collections of poetry: Trophic Cascade, Smith Blue, Suck on the Marrow, and What to Eat, What to Drink, What to Leave for Poison. Her debut collection of personal essays is Guidebook to Relative Strangers. Camille edited Black Nature: Four Centuries of African American Nature Poetry. Her honors include an American Book Award, two Northern California Book Awards, two NAACP Image Award nominations, a California Book Award silver medal, and she was awarded a Guggenheim Fellowship in 2019. She is a professor in the English Department at Colorado State University and the poetry editor at Orion Magazine.

Camille T. Dungy

Paul Elie

Paul Elie is a senior fellow in Georgetown University's Berkley Center for Religion, Peace, and World Affairs and a regular contributor to The New Yorker. He is the author of two books, The Life You Save May Be Your Own and Reinventing Bach.

Paul Elie

Beth Evans

Beth Evans is a leading food, still-life, interior, travel, and portrait photographer. Her work has been featured in Elle Déco, Observer Magazine, Harper's Bazaar, The Telegraph Magazine, as well as the books Manly Food and New Nordic Colour: Decorating with a Vibrant Modern Palette.

Beth Evans

Charles Foster

Charles Foster is a writer, barrister, and a Fellow of Green Templeton College, University of Oxford. He is the author of more than twenty books, including Being a Beast: Adventures Across the Species Divide, The Sacred Journey: The Ancient Practices, and Wired for God: The Biology of Spiritual Experience.

Charles Foster

CMarie Fuhrman

CMarie Fuhrman is the author of Camped Beneath the Dam: Poems and co-editor of Native Voices: Indigenous Poetry, Conversation, and Craft. She has published poetry and nonfiction in multiple journals, including High Desert Journal, Yellow Medicine Review, Cutthroat A Journal of the Arts, Whitefish Review, Broadsided Press, and Taos Journal of Poetry and Art. CMarie is a graduate of the University of Idaho's MFA program, a regular columnist for the Inlander, an editorial team member for Broadsided Press, and nonfiction editor for High Desert Journal. She resides in the mountains of West Central Idaho.

CMarie Fuhrman

Forrest Grander

Forrest Gander is a poet, novelist, and translator. He won the Pulitzer Prize for Poetry in 2019 for his poetry collection Be With. His other books of poetry include Redstart: An Ecological Poetics and Science & Steepleflower. He is the author of the novels As a Friend and The Trace. His book Core Samples from the World was a finalist for the Pulitzer Prize and the National Book Critics Circle Award. He is a United States Artists Rockefeller Fellow and has received fellowships from The National Endowment for the Arts and the Guggenheim, Whiting, and Howard Foundations. In 2011, he was awarded the Library of Congress Witter Bynner Fellowship.

Forrest Gander

Jay Griffiths

Jay Griffiths is the author of Anarchipelago; Pip Pip: A Sideways Look at Time, winner of the Barnes and Noble Discover Award; Wild: An Elemental Journey, winner of the Orion Book Award and shortlisted for the Orwell Prize and the World Book Day Award; and A Love Letter from a Stray Moon. She broadcasts widely on BBC Radio and her writing has appeared in the Guardian, Orion, Lapham's Quarterly, the Ecologist, Dark Mountain, and more.

Jay Griffiths

Bear Guerra

Bear Guerra is a photographer whose work explores the human impact of globalization, development, and social and environmental justice issues, often in communities typically underrepresented in the media. His work has appeared in The New York Times, The Wall Street Journal, The Atlantic, Le Monde, BBC, and NPR, and has been exhibited widely. He was a finalist for a National Magazine Award in Photojournalism. Bear and his wife, Ruxandra Guidi, work together under the name Fonografia Collective to produce local and international print, radio, and multimedia stories about human rights and social justice. Bear is also a board member and producer with the award-winning nonprofit journalism collaborative, Homelands Productions, and is the visuals editor at High Country News.

Bear Guerra

David G. Haskell

David George Haskell is author of The Songs of Trees: Stories from Nature's Great Connectors, winner of the 2020 Iris Book Award, the 2018 John Burroughs Medal, and named one of the Best Science Books of 2017 by NPR's Science Friday. His first book, The Forest Unseen: A Year's Watch in Nature, was winner of the National Academies' Best Book Award for 2013, finalist for the 2013 Pulitzer Prize in nonfiction, winner of the 2013 Reed Environmental Writing Award, and winner of the 2012 National Outdoor Book Award for Natural History Literature. His latest book, Sounds Wild and Broken: Sonic Marvels, Evolution's Creativity, and the Crisis of Sensory Extinction, was a finalist for the Pulitzer Prize. He is a professor at the University of the South in Sewanee, Tennessee.

David G. Haskell

Lisa Lee Herrick

Lisa Lee Herrick is a second-generation Hmong American writer, artist, and media specialist who helped produce the film, The Hmong and The Secret War, now available at PBS.org. She is a former television executive and award-nominated news journalist, and a founding member of the LitHop literary festival. Her essays and illustrations have been featured on or are forthcoming from The Rumpus, Food52, The Normal School, and others. She is writing a family memoir about the inheritance and aftermath of trauma, a cookbook, and two graphic novels.

Lisa Lee Herrick

Brenda Hillman

Brenda Hillman is a poet and activist. Her poetry collections include Practical Water, winner of the Los Angeles Times Book Award; Seasonal Works with Letters on Fire, winner of the International Griffin Poetry Prize for 2014 and the Northern California Book Award; and Extra Hidden Life, among the Days. Hillman is the recipient of the William Carlos Williams Prize from Poetry Society of America and the Academy of American Poets Fellowship. She currently teaches at St. Mary's College in Moraga, California, where she is the Olivia C. Filippi Professor of Poetry.

Brenda Hillman

Linda Hogan

Linda Hogan is a Chickasaw novelist, essayist, poet, and environmentalist. She is author of Mean Spirit, winner of the Oklahoma Book Award and the Mountains and Plains Book Award, and a finalist for the Pulitzer Prize. Her latest book of essays, The Radiant Lives of Animals, is forthcoming from Beacon Press.

Linda Hogan

Sophy Hollington

Sophy Hollington is an illustrator and artist living in Brighton, UK. Much of her commercial work takes the form of relief prints, created using the process of lino-cutting. Her clients include: The New York Times, The New Yorker, Bloomberg Businessweek, Wetransfer, The Wall Street Journal, Penguin, and Stylist Magazine.

Sophy Hollington

Katie Holten

Katie Holten is a visual artist based in New York City. She grew up in rural Ireland and studied fine art and history of art at the National College of Art and Design in Dublin and the Hochschule der Kunst in Berlin. In 2003, she represented Ireland at the 50th Venice Biennale. In 2015, she created a Tree Alphabet and used it to make the book About Trees. Her latest book is The Language of Trees: A Rewilding of Literature and Landscape.

Katie Holten

Nick Hunt

Nick Hunt is a writer, journalist, and storyteller. His published books include Outlandish: Walking Europe's Unlikely Landscapes, Walking the Woods and the Water, Where the Wild Winds Are, and a work of gonzo ornithology, The Parakeeting of London. Nick is a contributor to and coeditor of the Dark Mountain Project.

Nick Hunt

Amaud Jamaul Johnson

Amaud Jamaul Johnson is the author of Darktown Follies and Red Summer. A former Wallace Stegner Fellow in Poetry, his honors include a Pushcart Prize, the Hurston/Wright Legacy Award, a MacDowell Colony Fellowship, and the Dorset Prize. His work has appeared in American Poetry Review, Kenyon Review, Narrative Magazine, and Best American Poetry. He teaches at the University of Wisconsin-Madison. His latest book, Imperial Liquor, was published by the Pitt Poetry Series.

Amaud Jamaul Johnson

Hokyoung Kim

Hokyoung Kim is an illustrator from South Korea. She studied painting at Hongik University, and received her BFA in illustration from the Ringling College of Art and Design. Her clients include The New York Times, The New Yorker, The Atlantic, and others. She currently lives in New York City.

Hokyoung Kim

Paul Kingsnorth

Paul Kingsnorth is a writer living in rural Ireland. In 2009, he created and launched Dark Mountain Project, a writers' and artists' movement designed to question the stories our culture is telling itself in a time of ecological and social unraveling. Paul has won various prizes for his poetry, including the 2012 Wenlock Prize. His first novel, The Wake, was longlisted for the Man Booker Prize and won the Gordon Burn Prize and the Bookseller Book of the Year Award. Paul's second novel, Beast, was shortlisted for the Encore Award for the best second novel. The third, and final, installment in this trilogy, Alexandria, is forthcoming. Paul published his first collection of essays, Confessions of a Recovering Environmentalist, in 2017, and his most recent nonfiction book, Savage Gods, was released in 2019.

Paul Kingsnorth

Adam Loften

Adam Loften is a filmmaker and producer of documentary films, virtual reality experiences, and podcasts. His work has been nominated for Emmy and Peabody Awards and featured on PBS, National Geographic, The Atlantic, and The New York Times.

Adam Loften

William Bryant Logan

William Bryant Logan is the author of Sprout Lands: Tending the Endless Gift of Trees, Oak: The Frame of Civilization, Air: The Restless Shaper of the World, and Dirt: The Ecstatic Skin of the Earth. He is a certified arborist, serves on the faculty of the New York Botanical Garden, and is the founder and president of Urban Arborists, Inc. William is a contributing editor to House Beautiful, House and Garden, and Garden Design magazines, and is a regular garden writer for The New York Times. He is the recipient of a 2012 Senior Scholar Award from the New York State chapter of the International Society of Arboriculture (ISA), the True Professional of Arboriculture award, and an NEH grant to translate Calderón de la Barca. He has published many translations, including the work of García Lorca, Ramón del Valle Inclán, and Calderón.

William Bryant Logan

Vilma Luostarinen

Vilma Luostarinen is a London-based artist and food experience designer. She holds a masters degree in Narrative Environments from Central Saint Martins and has studied diverse temple and monastic food traditions around the world.

Vilma Luostarinen

Robert Macfarlane

Robert Macfarlane is the author of books on nature, place, and people, including Underland: A Deep Time Journey, The Lost Words (with Jackie Morris), The Old Ways, The Wild Places, Mountains of the Mind, and Landmarks. His work has been widely adapted for film, television, music, dance, and stage, and translated into many languages. His writing has appeared in The New Yorker, Granta, and The Guardian. He won the 2017 E.M. Forster Award for Literature from the American Academy of Arts and Letters. He lives in Cambridge, England, where he is a Fellow of the University of Cambridge.

Robert Macfarlane

Andri Snær Magnason

Andri Snær Magnason is an Icelandic writer and filmmaker. His latest book, On Time and Water, is being published in thirty languages, and his work has been published or performed in more than forty countries. His numerous awards include the Green Earth Book Awards Honor Book and a Phillip K. Dick Special Citation for his sci-fi novel LoveStar. His feature-length films include Dreamland and The Hero's Journey to the Third Pole.

Andri Snær Magnason

Kalyanee Mam

Kalyanee Mam is an award-winning filmmaker whose work is focused on art and advocacy. Born in Battambang, Cambodia, during the Khmer Rouge regime, Kalyanee immigrated to the United States in 1981 with her family. Her debut documentary feature, A River Changes Course, won the World Cinema Grand Jury Prize for Documentary at the 2013 Sundance Film Festival and the Golden Gate Award for Best Feature Documentary at the San Francisco International Film Festival. Her other works include documentary shorts Lost World, Fight for Areng Valley, Between Earth & Sky and Cries of Our Ancestors. She has also worked as a cinematographer and associate producer on the 2011 Oscar-winning documentary Inside Job. She is currently working on a new feature documentary, The Fire and the Bird's Nest.

Kalyanee Mam

Simone Martin-Newberry

Simone Martin-Newberry is a graphic designer and illustrator based in Chicago. She specializes in print layout, typesetting, hand lettering, and illustration, and has worked with The Guardian US, REI Co-op, the Chicago Reader, Wilmette Theater, and many others.

Simone Martin-Newberry

Lina Müller

Lina Müller is an illustrator based in Central Switzerland. She studied at the Lucerne School of Art and Design, Zurich University of the Arts, and at the Academy of Fine Arts in Kraków. She is the recipient of numerous awards and was nominated for the 2017 Swiss Design Awards.

Lina Müller

Maria Nguyen

Maria Nguyen is an illustrator based in Toronto. Maria is a staff illustrator for the Global Press Accuracy Network and has worked for The New York Times, Penguin Random House, Simon & Schuster, The Believer Magazine, and others.

Maria Nguyen

Richard Powers

Richard Powers is the author of twelve novels. His most recent novel, Bewilderment, has been shortlisted for the 2021 Booker Prize and longlisted for the 2021 National Book Award for Fiction. His novel The Overstory won the Pulitzer Prize in Fiction. Richard is the recipient of a MacArthur Fellowship and has been a four-time National Book Critics Circle Award finalist. He lives in the foothills of the Great Smoky Mountains.

Richard Powers

George Prochnik

George Prochnik is the author of In Pursuit of Silence: Listening for Meaning in a World of Noise and The Impossible Exile: Stefan Zweig at the End of the World, which received the National Jewish Book Award for Biography in 2014 and was shortlisted for the Wingate Prize. Prochnik is editor-at-large for Cabinet magazine and has written for The New Yorker, The New York Times, Bookforum, and The Los Angeles Review of Books. His latest book Heinrich Heine: Writing the Revolution is forthcoming from Yale University Press.

George Prochnik

Elizabeth Rush

Elizabeth Rush is the author of Still Lifes from a Vanishing City: Essays and Photographs from Yangon, Myanmar and Rising: Dispatches from the New American Shore, a finalist for the Pulitzer Prize. Her writing has appeared or is forthcoming in The New York Times, The Guardian, Harpers, Granta, Orion, and others. Rush is the recipient of the Howard Foundation Fellowship awarded by Brown University, the Society for Environmental Journalism Grant, the Metcalf Institute Climate Change Adaptation Fellowship, and the Science in Society Award from the National Association of Science Writers.

Elizabeth Rush

Luca Schenardi

Luca Schenardi is a Swiss-based illustrator and artist. He studied at the Lucerne School of Art and Design. His illustrations have appeared in international newspapers and magazines, including Süddeutsche Zeitung, Die Zeit, and Rolling Stone Magazine.

Luca Schenardi

Roy Scranton

Roy Scranton is the author of I Heart Oklahoma!; Total Mobilization: World War II and American Literature; We're Doomed. Now What?; War Porn; and Learning to Die in the Anthropocene: Reflections on the End of a Civilization. His essay "Learning How to Die in the Anthropocene" was selected for The Best American Science and Nature Writing 2015. He is the recipient of the Whiting Fellowship in the Humanities and a Lannan Literary Fellowship for Fiction

Roy Scranton

Jeremy Seifert

Jeremy Seifert is an award-winning documentary filmmaker. His feature films include The Devil We Know, GMO OMG, and DIVE! Living Off America's Waste. His films for Emergence Magazine include The Church Forests of Ethiopia and On the Road with Thomas Merton.

Jeremy Seifert

Dadu Shin

Dadu Shin is an artist living and working in Brooklyn, New York. He graduated from the Rhode Island School of Design in 2010. His work has appeared in The New York Times, The New Yorker, The Boston Globe, and Nautilus.

Dadu Shin

Jake Skeets

Jake Skeets is Black Streak Wood, born for Water's Edge. He is Diné from Vanderwagen, New Mexico. His debut collection of poetry, Eyes Bottle Dark with a Mouthful of Flowers, was a winner of the National Poetry Series and the American Book Award. He won the 2018 Discovery/Boston Review Poetry Contest and has been nominated for a Pushcart Prize. His honors include a 2020–2021 Mellon Projecting All Voices Fellowship and the 2023–2024 Grisham Writer in Residence at the University of Mississippi. His research explores Diné poetics and aesthetics, ecopoetics, Indigenous queer theories, and critical Indigenous feminisms. He currently teaches at the University of Oklahoma.

Jake Skeets

Chelsea Steinauer-Scudder

Chelsea Steinauer-Scudder is a writer based in northern New England whose work explores the human relationship to place. Her essays have been featured in Crannóg Magazine, Inhabiting the Anthropocene, and EcoTheo Review. Her forthcoming book is Rebirth: Mothering Through Ecological Collapse.

Chelsea Steinauer-Scudder

Ben Suliteanu

Ben Suliteanu is an aspiring filmmaker specializing in editing and sound design. He recently graduated from Stanford University with a bachelor's degree in science, technology, and society.

Ben Suliteanu

Gabriella Trujillo

Gabriella Trujillo is an illustrator from Southern Colorado. She received a BFA in painting from the University of Colorado and studied at Università degli Studi della Tuscia in Viterbo, Italy. Some of her notable clients include NPR, The Atlantic, and Southwest Contemporary. She currently lives in Northern New Mexico.

Gabriella Trujillo

Michael W. Twitty

Michael W. Twitty is an African-American and Jewish writer, culinary historian, and educator. He is the author of The Cooking Gene, which won the 2018 James Beard Foundation Book Award for Book of the Year and was a finalist for The Kirkus Prize in nonfiction, the Art of Eating Prize, and a Barnes and Noble New Discoveries finalist in nonfiction. His blog Afroculinaria explores the culinary traditions of Africa, African America, and the African diaspora.

Michael W. Twitty

Emmanuel Vaughan-Lee

Emmanuel Vaughan-Lee is an Emmy and Peabody Award–nominated filmmaker and a Sufi teacher. His films include: Earthrise, Sanctuaries of Silence, The Atomic Tree, Counter Mapping, Marie's Dictionary, and Elemental. His films have been screened at New York Film Festival, Tribeca Film Festival, SXSW, and Hot Docs, exhibited at the Smithsonian Museum, and featured on PBS POV, National Geographic, and New York Times Op-Docs. He is the founder and executive editor of Emergence Magazine.

Emmanuel Vaughan-Lee

Rowen White

Rowen White is a Seedkeeper from the Mohawk community of Akwesasne and an activist for Indigenous seed sovereignty. She is the director and founder of Sierra Seeds, an organic seed cooperative focusing on local seed production and education, based in Nevada City, California. She teaches creative seed training immersions around the country within tribal and small farming communities.

Rowen White

Crystal Wilkinson

Crystal Wilkinson is the author of The Birds of Opulence, winner of the 2016 Ernest J. Gaines Prize for Literary Excellence; Water Street; and Blackberries, Blackberries, nominated for the Orange Prize and the Hurston/Wright Legacy Award. She is a recipient of the Chaffin Award for Appalachian Literature and has been nominated for a Pushcart Prize. Her short stories, poems, and essays have appeared in the Oxford American and Southern Cultures, among others. She is an Associate Professor of English in the Creative Writing MFA Program at the University of Kentucky.

Crystal Wilkinson

Alice Lee

Alice Lee is an illustrator who works under the name Parallel Point. Her illustrations have appeared in the poetry anthologies Stop Sharpening Your Knives and Bird Book II, III & IV. She is a lecturer at Norwich University of the Arts in the UK.

Alice Lee