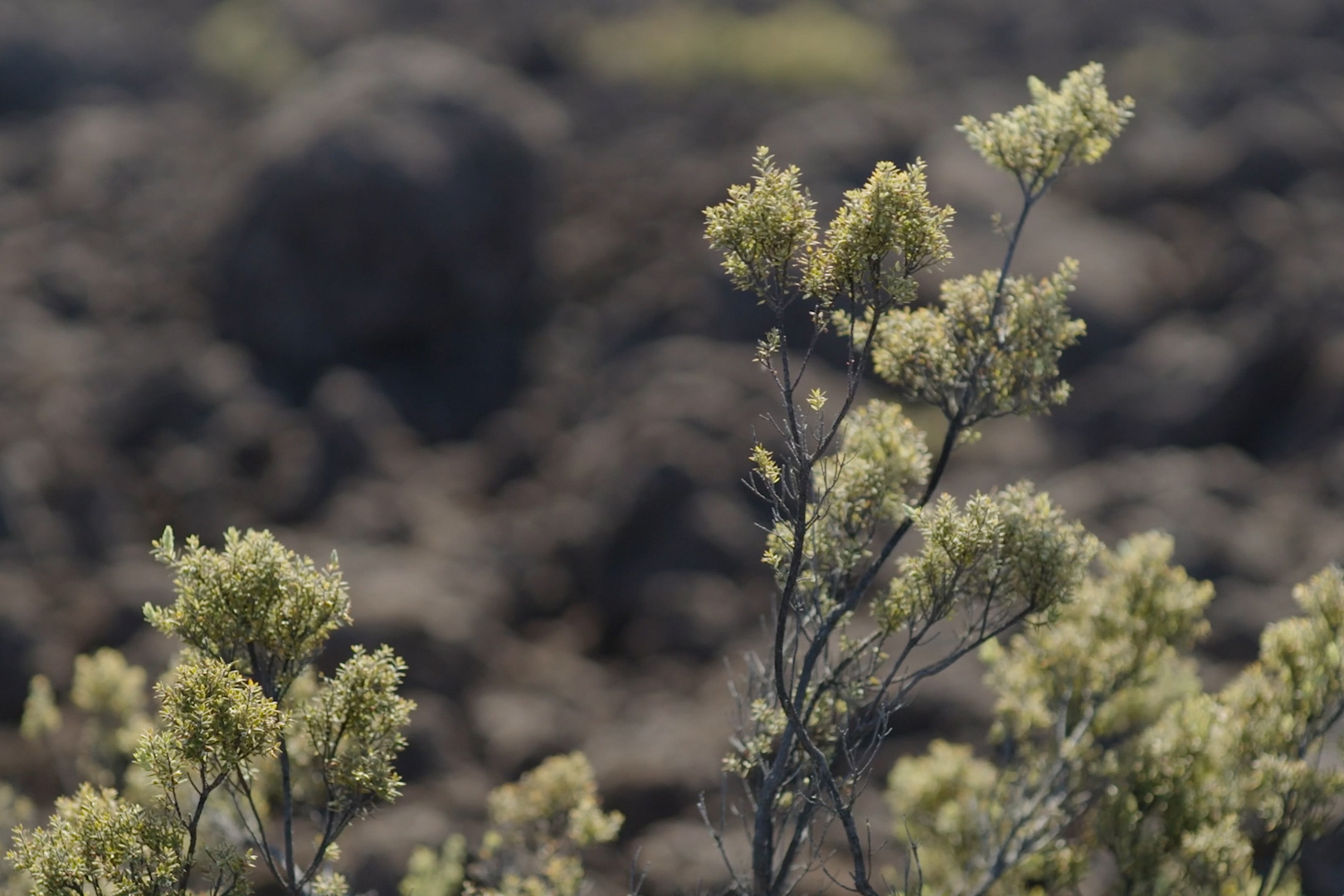 Seeds of Radical Renewal: A Ten-Part Leadership Course (Closed)
with Spiritual Ecology facilitators
February 19 – April 23, 2023 (iteration 1) & April 26 – June 28, 2023 (iteration 2)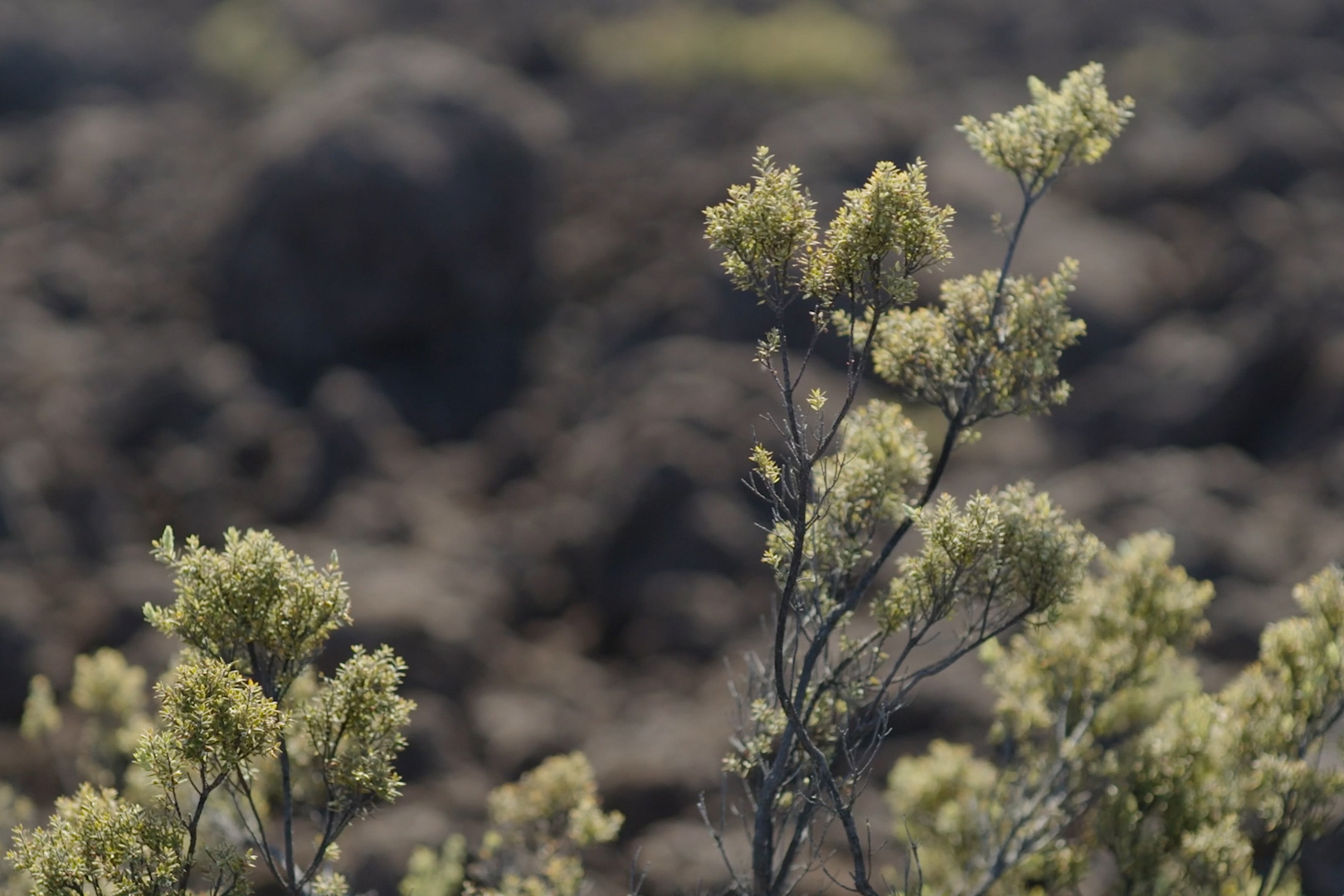 When we dare to face the cruel social and ecological realities we have been accustomed to, courage is born and powers within us are liberated to reimagine and even, perhaps one day, rebuild a world.
We have arrived at a threshold: a liminal space where the world we have known is coming undone and new configurations are still taking shape. The Earth's ancient patterns and pathways—of water and rock, trees and rivers, cranes and salmon—are changing rapidly. In this moment of great loss and transformation, we can sense the possibility of radical renewal. The seeds of new beginnings are emerging from deep within the understory, the hidden forces of creation are awakening and slowly taking root around the world.
The role of leadership in younger generations has never carried more weight than it does now. There is a growing global movement of young leaders who are calling for change and challenging us to abandon destructive stories of progress that are rooted in oppression, colonization, separation, and unlimited economic growth.
As our lands and waters face unprecedented change and as our cultural landscapes undergo seismic shifts, what creative possibilities might emerge when like-minded and like-hearted individuals come together to imagine and implement radical beginnings? And how can the philosophy and practices of spiritual ecology guide us in getting there?
This ten-part leadership course offers emerging leaders the opportunity to deepen their skills in building and co-creating spaces of renewal, reciprocity, and reverence. The course offers an in-depth exploration of the emerging field of spiritual ecology: an evolving philosophy that is rooted in the understanding that ecology, culture, and spirituality are interdependent.
With the guidance of guest teachers—including Jamaica Osorio, James Bridle, David Abram, Emmanuel Vaughan-Lee, Kalyanee Mam, Rowen White, and Tyson Yunkaporta—participants will have the opportunity to learn from the wisdom and leadership experience of philosophers, writers, filmmakers, activists, and community leaders. Additionally, a number of course sessions will offer space for facilitated discussion, personal reflections through written prompts, group sharing, storytelling, and one-on-one mentorship sessions with guest teachers, course participants, and Emergence staff.
Throughout the course, participants will be given required and optional reading and writing assignments designed to deepen the learning and exploration of the key themes discussed in the course. The curriculum will feature three themed modules: listening for the stories that want to be told, participating with the animate earth, and participatory leadership.
Photo by Jeremy Seifert.
Modules
Part 1: Listening for the Stories that Want to Be Told
with Emmanuel Vaughan-Lee and Kalyanee Mam
What are the stories we need to hear in this moment of great change, and what are the stories that need to be told? How do we learn to listen to ourselves, the land, and the communities we intend to serve in ways that enable us to be better leaders? The work of restoration applies not only to broken human and ecological systems, but to our roles as storytellers who are witnessing and listening with authenticity. Part I explores themes of deep listening, storytelling, and embodied relationship.
Part 2: Participating with the Animate Earth
with James Bridle (iteration 1 only*), Tyson Yunkaporta (iteration 2 only*) and David Abram
How can the living world be a model for nonbinary and decentralized approaches to leadership? How can opening our senses to the more-than-human world reopen the gates of our perception and nourish creative possibilities? When we turn our attention to the land, we are reminded of the power of belonging and how an embodied knowledge of place can enable us to step into multiple ways of knowing and being. Part II explores themes of spontaneous reciprocity, animism, nonbinary thinking, and our shifting relationship with technology.
Part 3: Participatory Leadership: Enabling Spaces for Renewal
with Rowen White and Jamaica Heolimeleikalani Osorio
How do we take our skills of leadership and use them to build spaces for renewal, reciprocity, and reverence? How do we embrace intergenerational resilience in our work, moving away from heroic forms of leadership and instead grounding ourselves in care and interdependence? Ecologizing our leadership can help us to dismantle systems of oppression and find futures beyond capitalism, settler colonialism, and heteronormativity—rooting us in love for each other and the Earth. Part III explores themes of rest, renewal, reverence, inner and outer alignment, kincentric leadership, and alternative visions for the future.
Application & Cost
Two iterations of this course are offered for 2023:
Iteration 1
February 19th – April 23rd, 2023
Sundays 10am–12pm (Pacific)
Application Deadline: Wednesday, December 14th at 11:59pm (PST)
Notification of Acceptance: December 21st, 2022
Iteration 2
April 26th – June 28th
Wednesdays 5pm–7pm (Pacific)
Application Deadline: Wednesday, March 8th at 11:59pm (PST)
Notification of Acceptance: March 15th, 2023
Applications for both iterations are now closed.
The program costs $500. Some scholarships will be available for those who need them. If you are accepted into the course, payment is due within one week of the first session. Cancellations made up to one week before the course begins will result in a full refund. After that, refunds will not be available unless under special circumstances.
Please contact events@emergencemagazine.org if you have any questions.
Topic
Date
Time
Introduction
February 19th
Sunday, 10am-12pm (PST)
Part 1: Listening for the Stories that Want to Be Told
February 26th
March 5th
March 12th
Sundays, 10am-12pm (PST)
Part 2: Participating with the Animate Earth
March 19th
March 26th
April 2nd
Sundays, 10am-12pm (PDT)
Part 3: Participatory Leadership: Enabling Spaces for Renewal
April 9th
April 16th
Sundays, 10am-12pm (PDT)
Conclusion
April 23rd
Sunday, 10am-12pm (PDT)
Topic
Date
Time
Introduction
April 26th
Wednesday, 5-7pm (PDT)
Part 1: Listening for the Stories that Want to Be Told
May 3rd
May 10th
May 17th
Wednesdays, 5-7pm (PDT)
Part 2: Participating with the Animate Earth
May 24th
May 32st
June 7th
Wednesdays, 5-7pm (PDT)
Part 3: Participatory Leadership: Enabling Spaces for Renewal
June 14th
June 21st
Wednesdays, 5-7pm (PDT)
Conclusion
June 28th
Wednesday, 5-6pm (PDT)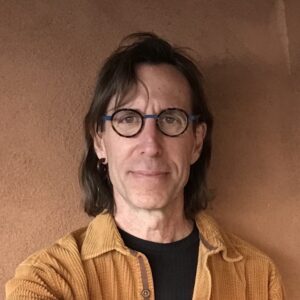 David Abram
David Abram, PhD, is a cultural ecologist and philosopher. He is the founder and creative director of the Alliance for Wild Ethics. His books include Becoming Animal: An Earthly Cosmology and The Spell of the Sensuous: Perception and Language in a More-than-Human World.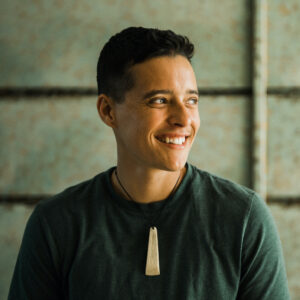 Jamaica Heolimeleikalani Osorio
Dr. Jamaica Heolimeleikalani Osorio is a Kanaka Maoli wahine artist / activist / scholar born and raised in Pālolo Valley to parents Jonathan and Mary Osorio. Jamaica earned her PhD in English (Hawaiian literature) in 2018 from the University of Hawaiʻi at Mānoa. Currently, Jamaica is an Assistant Professor of Indigenous and Native Hawaiian Politics at the University of Hawaiʻi at Mānoa. Jamaica is a three-time national poetry champion, poetry mentor, and a published author. In 2020 her poetry and activism were the subject of an award-winning film, This is The Way We Rise, which premiered at Sundance Film Festival in 2021. In 2022 she was a lead artist and co-writer of the revolutionary VR Documentary, On the Morning You Wake (To the end of the world), which premiered at Sundance Film Festival 2022 and won the XR Experience Jury Award at SXSW 2022. She is the author of the award-winning book Remembering Our Intimacies: Moʻolelo, Aloha ʻĀina, and Ea, which was published in 2021 by the University of Minnesota Press.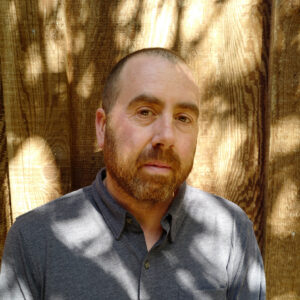 Emmanuel Vaughan-Lee
Emmanuel Vaughan-Lee is an Emmy and Peabody Award–nominated filmmaker and a Naqshbandi Sufi teacher. His films include: Earthrise, Sanctuaries of Silence, The Atomic Tree, Counter Mapping, Marie's Dictionary, and Elemental. Emmanuel's films have screened at NYFF, Tribeca Film Festival, SXSW, and Hot Docs; exhibited at the Smithsonian Museum and The Barbican; and featured on PBS POV, National Geographic, New York Times Op-Docs, The New Yorker, and The Atlantic. He is the founder and executive editor of Emergence Magazine. He lives and teaches in Inverness, California.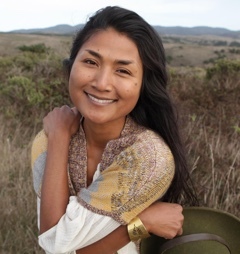 Kalyanee Mam
Kalyanee Mam is an award-winning filmmaker whose work is focused on art and advocacy. Born in Battambang, Cambodia, during the Khmer Rouge regime, Kalyanee immigrated to the United States in 1981 with her family. Her debut documentary feature, A River Changes Course, won the World Cinema Grand Jury Prize for Documentary at the 2013 Sundance Film Festival and the Golden Gate Award for Best Feature Documentary at the San Francisco International Film Festival. Her other works include documentary shorts Lost World, Fight for Areng Valley, Between Earth & Sky and Cries of Our Ancestors. She has also worked as a cinematographer and associate producer on the 2011 Oscar-winning documentary Inside Job. She is currently working on a new feature documentary, The Fire and the Bird's Nest.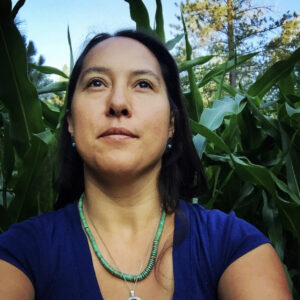 Rowen White
Rowen White is a Seed Keeper/farmer from the Mohawk community of Akwesasne and a passionate activist for indigenous seed and food sovereignty. She is the Educational Director and lead mentor of Sierra Seeds, an innovative Indigenous seed bank and land-based educational organization located in Nevada City, CA. Rowen is the Founder of the Indigenous Seedkeepers Network, which is committed to restoring the Indigenous Seed Commons. She is part of a collective movement to reseed imaginations of a more beautiful and nourishing future through uplifting and mentoring emerging changemakers, visionaries, community members, and creative humans who are making nourishing contributions at the intersections of the landscape of food sovereignty and cultural revitalization.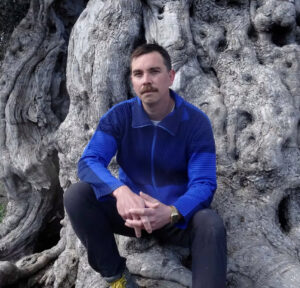 James Bridle
James Bridle is a writer, artist, and technologist. Their artworks have been commissioned by galleries and institutions and exhibited worldwide and on the internet. Their writing on literature, culture, and networks has appeared in magazines and newspapers, including Wired, The Atlantic, The New Statesman, The Guardian, and The Financial Times. They are the author of New Dark Age (2018) and Ways of Being (2022), and they wrote and presented New Ways of Seeing for BBC Radio 4 in 2019. Their work can be found at http://jamesbridle.com.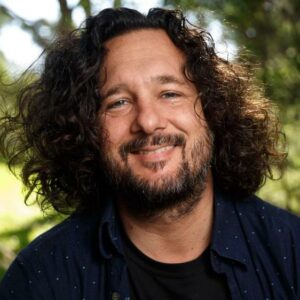 Tyson Yunkaporta
Tyson Yunkaporta is an Aboriginal scholar, founder of the Indigenous Knowledge Systems Lab at Deakin University in Melbourne, and author of Sand Talk. His work focuses on applying Indigenous methods of inquiry to resolve complex issues and explore global crises. Photo by James Henry.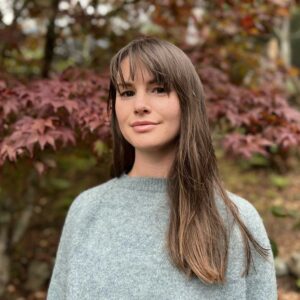 Devin Tellatin is a staff film producer and the programs and event manager at Emergence Magazine. She was part of Kalliopeia Foundations inaugural 2016 Spiritual Ecology Fellowship, and has worked at Emergence since the magazine launch in 2018. She holds a masters degree in International Affairs from The New School in New York City. Prior to joining Emergence, Devin worked in the realm of international development policy at the United Nations where she campaigned for the inclusion of progressive policies that place the living world and voices from the Global South at the center. She is passionate about working with emerging leaders and building creative learning spaces that enables us to reexamine our relationship with the more-than-human world and seed the foundations for ecological, cultural, and spiritual renewal.